Google "Olympic Dream". It's a cliché but it's everywhere, shorthand for the ultimate achievement in sport, the aspiration of youngsters and elite athletes alike, way beyond most of us but universally recognised all the same. Listen to interviews during these Games and you'll hear it over and over from athletes, versions of "it's always been my dream, and here I am".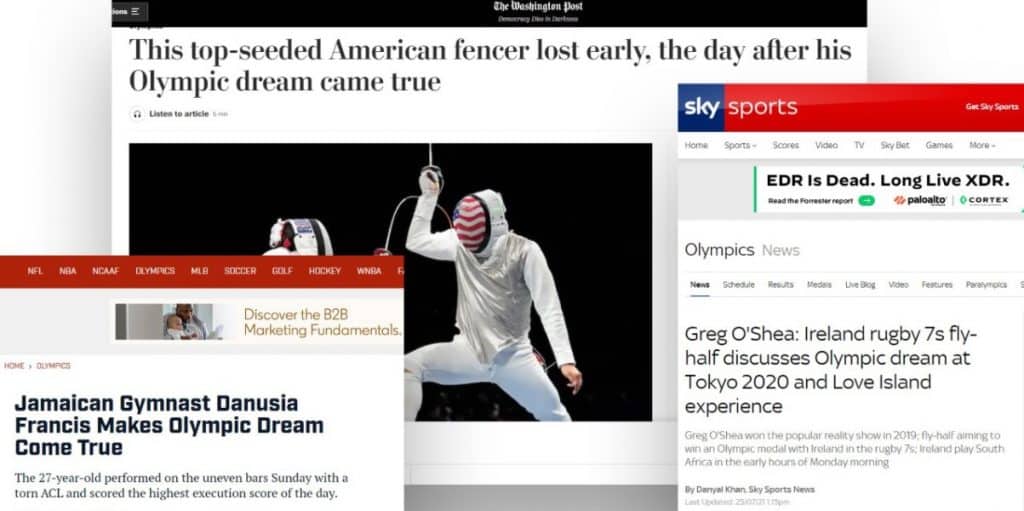 After the dream comes true, you're an Olympian for life, as the official website says, with all the benefits that brings: national honours and status, cash prizes, awards and sponsorship, even houses, and perhaps a career as coach or pundit after your playing days are over. There's even the right to use the letters OLY after your name, and an OLY.org email address. Most Olympians don't win a medal but they'll always be Olympians. 
That's why it matters that some women are losing that chance, despite being among the best in the world in their sport. The IOC says that the Tokyo Games are the first "gender-balanced" games, and that  "Almost 49 per cent of the athletes participating will be women, according to the IOC quota allocation". But how does the IOC define "women"? Guess what. Some of those women are male. The IOC decided in 2015 that, for their purpose, a female is anyone who says they are, as long as their testosterone, the primary male hormone, has been below 10 nanomoles per litre (nmol/L) for the past 12 months. The typical testosterone level in females is less than 1 nmol/L. 
These Games are the first since these new rules applied. We know of at least three competitors, Stephanie Barrett of Canada, Chelsea Wolfe of the USA and Laurel Hubbard of New Zealand, whose performance would not be good enough for qualification in the male category, but who have taken a place in a category reserved for female athletes. There may be others in team sports such as football, hockey and volleyball. Despite Canada's pride in its "progressive" credentials, its national team information makes no mention of archer Stephanie Barratt's transgender status. We simply don't know how many athletes in women's events might have been born male.
Don't let anyone tell you that it costs nothing to allow male athletes who identify as women into a female sports category. That if they don't win a medal they haven't taken anything away from anyone else. There are at least three women who should be Olympians this year but got bumped off the list to make room for athletes born male.
Here's Tania Edwards, the best female archer in Canada, losing her Olympic spot to a good but not world class male.
Here's Roviel Detenamo, from the proud weight-lifting nation of Nauru, who didn't get to Tokyo because new rules allowed a veteran male lifter now 20 years past peak performance, and weighing in 45kg heavier, into her category. Women were excluded from Olympic weightlifting until 2000. In 2021 a woman is being excluded once more.
Who lost out to Chelsea Wolfe in Cycling BMX Freestyle? Most likely Angie Marino.
Angie is one of the top three female BMX freestylers in the USA. At the 2018 World Championships Marino took silver alongside team mates Perris Benegas (Gold) and Hannah Roberts (Bronze). BMX freestyle now appears as an Olympic Sport for the first time. Benegas and Roberts have taken the USA's top two female places for Tokyo 2020. But as third best US female, Marino isn't going with them as their reserve rider. Instead that reserve slot on Team USA was given to a male rider who identities was a woman. Male-born Chelsea Wolfe clinched the reserve spot after taking fifth place at the World Championships earlier this month, Angie came next in sixth place but that was the end of her Olympic dreams.
Almost no one gets to be an Olympian. Opportunities for women have been slow in coming. Without a separate protected category for those with female bodies, there would be no female Olympians at all, other than perhaps a few equestrians and gymnasts. In almost all sports male athletes benefit from a performance advantage simply because their bodies developed under the influence of high testosterone. Female bodies don't.
All three of the males taking the place of women in Tokyo 2020 have benefited from male puberty. Studies show that hormone therapy later in life cannot reverse the gains made during and since puberty. It's not a level playing field.
Three males are already three too many. Women have made great progress towards parity of representation and recognition, if not earnings, in sport, and already males are encroaching on our hard-won gains. The IOC says that "Sport is one of the most powerful platforms for promoting gender equality and empowering women and girls."
When will they right this wrong, and restore fairness of opportunity and competition for females?
Or do the Olympic dreams of females not count?