This is the report we published in October 2017. Since that time the Ministry of Justice (MoJ) have confirmed by Freedom of Information requests that 60 of the 125 transgender prisoners known to be in prison in England and Wales are convicted sex offenders.
Some claim that the figure of 125 trans prisoners is too low, because the MoJ does not count prisoners on short sentences, people with a Gender Recognition certificate or people who do not declare they are trans. They say 60 sex offenders does not represent half of the trans population in prison, it's a much smaller fraction.
However, based on official MoJ statistics we know that only 4% of male prisoners are on sentences of less than 6 months. Only 1% of the transgender population has legally transitioned with a GRC. Therefore the number of uncounted trans prisoners is only likely to represent an additional 5% increasing the total to 132. This has no meaningful impact on the overall conclusions.
If these 60 sex offenders all transferred into women's prisons this would increase the total sex offender population by a further 50%, meaning that this would result in 1 in 3 sex offenders in the women's prison having been born male. This is a problem that cannot be ignored.
Sex offending is overwhelming committed by males. There are 13,000 male sex offenders in prison compared to about 100 women. Almost 20% of male prisoners have committed sex offences. Our figures suggest that sex offending rates amongst trans prisoners is at least comparable to male rates.
If we were to believe that trans sex offending was more like the female figures (of 3%) then there would have to be an extra 1875 'hidden' transgender prisoners. There is no evidence to suggest this is the case.
This shows that the MoJ must start to record transgender prisoner numbers more accurately. It is not good enough to say they do not know the total figures and it is not good enough to say they do not know how many male-bodied prisoners are ALREADY in women's prisons.
The absolute numbers or percentages quoted by Fair Play for Women is not what matters here. We have flagged up a problem that must be addressed by more accurate reporting by the MoJ.
---
The prison service is not recording data on transgender prisoners systematically. The MoJ and the prison service did not supply information via Freedom of Information requests, as they stated that there is no 'business or legal case' for recording the data. Fair Play for Women strongly disagrees. This information is necessary to enable an accurate risk assessment of the impact of proposed reforms to the Gender Recognition Act 2004 on the women's prison population. Fair Play for Women analysed the individual prison inspection reports for all the prisons in England and Wales and has produced this report.

Investigation into the number of trans-identifying males in prison in England and Wales and their offender profiles
Study conducted by Dr Nicola Williams and contributors from Fair Play for Women
ABSTRACT
No official figures are currently available regarding the number or type of convictions of trans-identifying male inmates in the prisons of England and Wales. This information is necessary to enable an accurate risk assessment of the impact of proposed reforms to the Gender Recognition Act 2004 on the women's prison population. Using publicly available prison inspection reports, we searched for all references to transgender inmates and were able to identify at least 113 trans-identifying male inmates (people born male who identify as transgender). There were no references to trans-identifying females in any report. One hundred trans-identifying males are housed in male prisons, of whom 13 have been transferred to women's prisons. Forty-six trans-identifying males are located in eight male prisons known to almost exclusively house sex offenders. A further 10 trans-identifying males are held in maximum-security category A prisons. We therefore conclude that approximately half of the known transgender population in prison are either sex offenders and/or highly dangerous prisoners.
INTRODUCTION
The government has recently announced a consultation on the reform of the Gender Recognition Act (GRA) 2004. This includes a proposal for self-declaration of gender identity to demedicalise and speed up the process of obtaining a Gender Recognition Certificate (GRC). At the moment, trans-identifying people must show evidence of two years "living in role" and have a diagnosis of gender dysphoria in order to obtain a Gender Recognition Certificate (GRC). The proposed changes will remove these requirements and allow people to self-declare their own gender. No physical changes will be necessary. They will then be given a GRC with which they can obtain a new birth certificate with their new legal sex category as male or female. From this point on, they must be regarded as legally male or female.
Any legal changes will also apply to trans-identifying people in prison. At the moment, current prison guidance for England and Wales is to transfer trans-identifying males to women's prisons only if they have a GRC or on a case-by-case basis after a transgender case review. If self-declaration of gender becomes law, any trans-identifying male prisoner will be able to obtain a GRC and will automatically become eligible for transfer to a women's prison.
The women's prison population represents just 5% of all prisoners in England and Wales. Any small increases in the number of transfers of trans-identifying males from male prisons would have a disproportionately large impact on the relatively small population of women prisoners. It is important that basic information such as the size of the trans-identifying male prisoner population and the types of crimes they have committed is known. This information is essential so that the impact of any changes to the GRA can be accurately risk-assessed.
We asked the prison service for more information about their trans-identifying male prisoner population by submitting Freedom of Information (FOI) requests (copies of submissions are here and here). We asked for information on the types of convictions and how many trans-identifying males were located in male or female prisons. We were told that the Ministry of Justice does not hold this information because there is no business or legal requirement to do so.
In the absence of official records, we searched all the prison inspection reports for all the prisons in England and Wales for information regarding their transgender prisoners. Our results are summarised in this report.
STUDY METHODOLOGY AND RESULTS
PART 1: COUNTING THE NUMBER OF TRANS-IDENTIFYING INMATES
Information about trans-identifying inmates was obtained by reading the most recent prison reports for all prisons in England and Wales. Each prison is monitored by the Independent Monitoring Board (IMB) and also has random spot checks conducted by HM Inspectorate of Prisons (HMIP). The number or presence of trans-identifying inmates was not systematically reported in these prison reports. In some cases, the number of trans-identifying inmates was given. In other cases, the presence of a trans-identifying individual or group was mentioned. In many cases, no information regarding trans-identifying inmates was mentioned at all.
The reports for 119 prisons were analysed, corresponding to a total of 82,702 inmates. No data on trans-identifying inmates were given for 52 of these prisons (30,291 inmates), so approximately one third of prisoners were excluded from further analysis (Figure 1).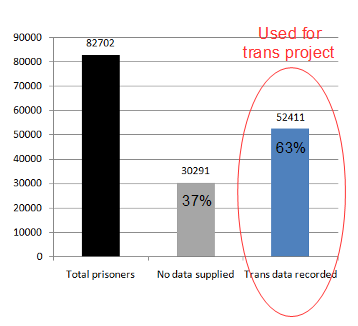 Figure 1: Total number of inmates covered in this study
It was confirmed that the 67 prisons identified for further study were a good representation of the whole prison estate. The distribution of these 67 prisons across the security categories A to D was the same as the distribution we see using the whole prison data set.
The number of trans-identifying males (abbreviated to "TIMs" hereafter for the purpose of brevity) was recorded for each prison using the most recent available report (IMB or HMIP). Most of the data were obtained from reports published in 2016 or 2017 (a total of 52 prisons). For 10 prisons, the only data available was published in 2015. For three prisons, the data were from 2014/13. Figure 2 shows the total number of prisoners covered in those reports for each year. In these older reports, it is possible that the TIMs reported may now have been transferred or released, or that additional TIMs have now arrived. For the purpose of this analysis, it was assumed that the number of TIMs has remained static.
Figure 2: Total number of prisoners covered by the reports used in the study for each of the publication years
For the 67 prisons used in the study, the total number of TIMs was not always given. In these cases, if the presence of a TIM was mentioned in the report, this was counted as one. If the presence of TIMs (plural) was mentioned, this was counted as two (the minimum number to which it could be referring). This means that the number of TIMs counted will only be a minimum estimate. Many more TIMs are likely to be "hidden" with no reference made to them in the reports. In 17 prisons, it was confirmed that there were no trans-identifying prisoners. See Figure 3.
Figure 3: Minimum number of TIMs counted for each prison.
Using the above method, a total of 113 TIMs were counted and assumed to be currently in prison in England and Wales. This is the minimum number of TIMs based on the limited data set available for study.
Nevertheless, this minimum number is significantly higher than the estimate of 70 trans-identifying prisoners given by the NOMS Annual Offender Equality Report in 2016.
One hundred TIMs are currently in male prisons. Thirteen TIMs have been transferred to women's prisons. There were no reports of trans-identifying females in any of the prisons. See Figure 4.
Figure 4: Total number of TIM prisoners in male and female prisons
Government guidance states that anyone who declares themselves to be transgender must be allowed to express their gender identity and "live in role". However, transfer to a women's prison requires the prisoner to have a Gender Recognition Certificate (GRC), which can only be obtained after two years "living in role" and a diagnosis of gender dysphoria. The fact that 100 out of the 113 TIMs have not been transferred to women's prisons suggests that most TIMs in prison do not have a GRC. It is unknown whether they declared their transgender status at admission or at some point during their prison sentence.
The 100 TIM prisoners in male prisons have access to women's clothes, wigs, make-up, and so on, and this was noted in many of the prison reports. Without a GRC, these prisoners are not automatically eligible for transfer to women's prisons and must be considered on a case-by-case basis by a transgender case board review. No official figures are held regarding how many transgender case board reviews have been conducted or how many have resulted in the approval necessary for the transfer of a TIM into a women's prison.
The government is proposing to make it easier to obtain a GRC, requiring self-declaration of gender only. Gender reassignment surgeries are not a precondition for obtaining a GRC. So although the 13 TIMs in women's prisons are legally female, this does not exclude the possibility that they still have functional penises. It is estimated that 80 to 95% of trans-identifying people in the UK have not undergone genital reconstruction surgery.
Figure 5 shows the distribution of TIMs in male or female prisons across the different prison security categories. Category A is the highest security prison. These prisons contain prisoners whose escape would be highly dangerous to the public or national security. Ten of the TIM prisoners are housed in these high security prisons, one of whom is in the only category A women's prison.
Most of the other TIMs are found in the medium-security category B and C prisons. Notably, almost all TIMs who have transferred to women's prisons are in category C. Only two TIMs are in low-security category D open prisons.
Figure 5: Distribution of TIMs across the prison categories
Figure 6 shows that the 113 TIMs are distributed across the prison categories in the expected way. The graph shows the percentage of the 113 TIMs in each category (red). This is compared with the percentage of inmates in each category using all prisoners in this study (blue). It can be seen that the 10 TIMs found in category A prisons (9% of TIMs) is what we would expect from the inmate population as a whole (8%).
Slightly more TIMs are seen in category C prisons than the average rate for males (53 vs 43%). However, this is largely due to the fact that the majority of TIMs transferred to women's prisons are now in category C.
Figure 6: The distribution of TIMs (%) across the security categories compared to the distribution of all prisoners
Scotland and Northern Ireland. The Ministry of Justice oversees the prison service in England and Wales. The Ministry has no responsibility for devolved criminal justice policy, courts, prisons or probation matters in either Scotland or Northern Ireland. For this reason we have restricted our main analysis to the prisons in England and Wales only. However, the contents of the prison reports for Scotland and Northern Ireland were also searched. We found no reference to transgender prisoners in any of the three prisons in Northern Ireland. For the 16 prisons in Scotland, we found references to four TIMs. One is being housed on the female wing of Greenock prison. The remaining three are in male prisons: two in Edinburgh and one in Grenochil.
PART 2: THE OFFENDER PROFILE OF TRANS-IDENTIFYING MALE INMATES
There is no official information published on the type of offences committed by TIM inmates. However, there are eight* male prisons in England and Wales known to house only sex offenders (at least 98% of the population of those prisons). A total of 46 TIMs were identified in these sex-offender prisons (Figure 7, dark blue). This represents almost half of all TIMs currently housed in the male prison estate.
*The eight prisons are Ashfield, Bure, Isle of Wight, Littlehey, Rye Hill, Stafford, Usk and Whatton
There are currently 13,808 male sex-offender inmates in prison in England and Wales. Only half are housed in the eight sex-offender prisons. The other half are housed in the other male prisons (normally on a wing separate to the general prison population). A further 32 TIMs were found in these prisons known to house some sex offenders (Figure 7, light blue). It is unknown whether these TIMs are sex offenders, but it is possible that some are. This means the total number of 46 TIM sex offenders could be a significant underestimate. There were only 22 TIMs for whom we could rule out sex offending as their convictions; these 22 were held in prisons known to not accept sex offenders (for example, category D open prisons).
Figure 7: Total number of TIMs in "sex offender only" prisons
Figure 8 shows that 46 TIMs were found to be located in the eight sex-offender prisons (blue). Two-thirds are in the category C prisons (31) and one-third in category B prisons (15).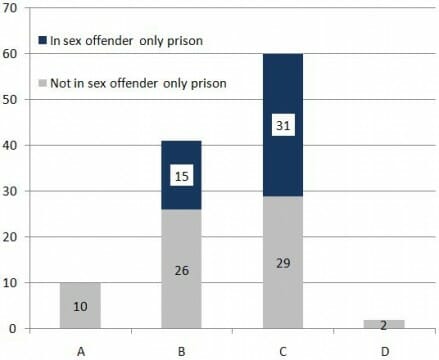 Figure 8: Distribution of TIMs across the security categories and their presence in the eight "sex offender only" prisons.
We can also see 10 TIMs in high-security category A prisons. None of these are in the eight sex-offender prisons, so it cannot be inferred whether or not they are sex offenders. Figure 9 shows the distribution of TIMs in the category A prisons.
Each of these category A prisons housing TIMs is known to accept some sex offenders. The identity of one TIM is known and that TIM is a confirmed sex offender, but it is impossible to know whether the remaining nine TIMs are also sex offenders. Nonetheless, they are highly dangerous prisoners convicted of some of the most serious offences (e.g. murder).
Figure 9: Number of TIMs found in each category A prison.
We have no information about the offences of the 13 TIMs already transferred into female prisons, except for the TIM Jessica Winfield. This TIM inmate was convicted of the rape of two girls and is currently housed at Bronzefield category A women's prison. This prisoner is not thought to have undergone genital reconstruction surgery.
Using the limited and incomplete data set available to us, we conclude that at least 41% of TIMs in prison in England and Wales are known sex offenders (46/113). This is a conservative estimate and the true figure is likely to be much higher. It is significantly higher than the average percentage of male sex offenders in the male prison estate as a whole (17%). See Figure 10.
Figure 10: Percentages of prison inmates convicted of sex offences
Our study shows that TIMs show a rate of sex offending that is at least the same or higher than that of male inmates who do not identify as transgender. This matches a similar observation by Dhejne et al. (2011), who showed that TIMs exhibited male-pattern criminality for violent crimes.
It is extremely rare for women to be convicted of sex offences. In fact, over 99% of all sex offenders in prison in England and Wales are male. Figures released in 2016 show there were 13,808 male sex offenders in prison. In contrast, there were only 126 female sex offenders in prison; however, even this small number is artificially high because it will now also include TIMs with GRCs whose sex offending will be counted as having been committed by females. What is clear from our study is that TIMs, despite identifying and dressing as women, do not exhibit a pattern of criminality in any way similar to that of women. If they did, we would expect to see virtually no sex offending by the TIM inmates.
STUDY LIMITATIONS
No official statistics are systematically recorded by prisons stating the number of trans-identifying inmates and the types of offences for which they are convicted. It is impossible to precisely calculate the percentage of TIMs who are sex offenders. However, using the incomplete data set available, we have provided the best estimate available today. Data for trans-identifying prisoners have been obtained for two-thirds of the prison population and minimum estimates have been made for each prison.
It could be argued that by the necessary exclusion of 52 prisons, our conclusion is skewed towards the TIMs mostly likely to be sex offenders. If this is the case, our study may not be representative of the population of TIM inmates as a whole. If we assume that the 52 prisons with no data relevant to our study also housed TIMs in the same proportions as the 67 prisons used in the analysis, we can estimate a total of approximately 200 TIMs in the whole of the prison estate. Even if none of these "unreported" TIMs were sex offenders, the overall prevalence of sex offences amongst the TIM inmates would still be in the region of 25% (46 sex-offending TIMs out of a total of 200 TIM inmates) and would still be higher than the average rate for male prisoners.
It is also possible that our use of some prison reports published more that one year ago means that this is not an accurate snapshot. However, if we limit our analysis to reports published in 2017 only, our conclusion remains the same. Twenty-five percent of prisons have had reports published in 2017. From these, we can identify 69 TIMs, of whom 37 are convicted sex offenders. This represents an even higher sex-offending percentage of 57%. (Further details of this analysis can be seen here.)
Since no specific data regarding the nature of convictions for TIMs are available, we have inferred their convictions depending on the prison in which they are housed. It is known that about half of all sex offender inmates are housed in eight male prisons designated specifically for sex offenders. Based on the details obtained from their inspection reports, we know that these prisons house exclusively (98–100%) sex offenders. However, in some of these prisons a very small number of non-sex offenders are held. We cannot rule out the possibility that the TIMs we identified could belong this non-sex offender subset. However, it seems unlikely that vulnerable, non-sex offending trans-identifying prisoners would be put at risk by being housed in prisons full of sex offenders. The most likely reason is that they are there because they are also sex offenders.
DISCUSSION
This study provides evidence for the first time that a high proportion of TIMs in UK prisons have been convicted of sexual offences. This tallies with anecdotal reports from both gender professionals and prisoners themselves. This issue was highlighted in two written submissions to the Trans Equality Inquiry held by the Women's and Equality Committee in 2015 but was not prioritised to be heard as oral evidence as part of the Inquiry.
The British Association of Gender Identity Specialists (BAGIS) made such observations in a written submission to the Trans Equality Inquiry in 2015, highlighting some concerning reasons why some prisoners may wish to exploit the system. Members of BAGIS comprise the overwhelming majority of clinicians working in every gender identity clinic in the UK. The membership is drawn from all the involved disciplines and includes speech therapists, psychologists, psychiatrists, surgeons, psychosexual counsellors, nurses, occupational therapists, endocrinologists, general practitioners, and social workers. An extract from the BAGIS submission to the Trans Equality Inquiry is given below and the full written submission can be found here.
"… the ever-increasing tide of referrals of patients in prison serving long or indeterminate sentences for serious sexual offences. These vastly outnumber the number of prisoners incarcerated for more ordinary, non-sexual, offences. It has been rather naively suggested that nobody would seek to pretend transsexual status in prison if this were not actually the case. There are, to those of us who actually interview the prisoners, in fact very many reasons why people might pretend this. These vary from the opportunity to have trips out of prison through to a desire for a transfer to the female estate (to the same prison as a co-defendant) through to the idea that a parole board will perceive somebody who is female as being less dangerous through to a [false] belief that hormone treatment will actually render one less dangerous through to wanting a special or protected status within the prison system and even (in one very well evidenced case that a highly concerned Prison Governor brought particularly to my attention) a plethora of prison intelligence information suggesting that the driving force was a desire to make subsequent sexual offending very much easier, females being generally perceived as low risk in this regard. I am sure that the Governor concerned would be happy to talk about this."
The British Psychological Society (BPS) also submitted written evidence to the Trans Equality Inquiry and it was once again highlighted why prisoners may wish to claim transgender status:
"psychologists working with forensic patients are aware of a number of cases where men convicted of sex crimes have falsely claimed to be transgender females for a number of reasons

– As a means of demonstrating reduced risk and so gaining parole;

– As a means of explaining their sex offending aside from sexual gratification (e.g. wanting to 'examine' young females);

– Or as a means of separating their sex offending self (male) from their future self (female).

In rare cases, it has been thought that the person is seeking better access to females and young children through presenting in an apparently female way.

Such strategies in no way affect risk and indeed may increase it. Some people falsely believe that taking oestrogen and blocking androgen in males will reduce risk of offending, however this is not necessarily the case.

Consequently the Society recommends that the Government give appropriate assistance to transgender people within the criminal justice system; while being extremely cautious of setting law and policy such that some of the most dangerous people in society have greater latitude to offend"
The thoughts and observations of prison inmates can be found in online prison forums such as www.insidetime.org. The high level of sex offenders who are declaring themselves transgender has been commented on. This is an extract from a post by a male prisoner, who commented in December 2016 on the increasing numbers of transgender prisoners: "I find it pretty suspicious that the majority of these trans-jesters, as I call them, are sex offenders, and it turns out that transgender people do not have to do the Sex Offenders Treatment Programme".
The evidence from our study shows a high proportion of both sex offenders and prisoners requiring maximum security in the TIM prison population in England and Wales. A similar observation has been published using official prison data and by interviewing transgender inmates in Californian prisons in the US. From a male prison population of approximately 130,000 men, a total of 298 TIMs were identified. Sixty-eight of these were sex offenders (20.5%). This was higher than the average rate of sex offenders in prison among all male inmates (14.6%). Similarly, the proportion of TIMs in maximum-security prisons (custody level 4) was higher than the average rate for all male prisoners (32.1 vs 22.8%).
We also found some evidence from academic studies suggesting a higher than average prevalence of activities such as cross-dressing. There is not much research on the subject but one study that evaluated the incidence in the general population found that nearly 3% of males reported sexual arousal from cross-dressing. The incidence of transvestism in sexual offenders, however, has been found to be very much higher. In a study of over 500 sex offenders, it was observed that over half exhibited transsexualism and/or cross-dressing as their primary paraphilia. Paraphilias are atypical sexual interests in objects, situations, or individuals. Repeat offending is more likely among sex offenders who have paraphilias (see study here). Among serious sadistic offenders, transvestism and fetishism are strongly represented (studies here and here).
Our study has identified a high proportion of sex offenders and dangerous prisoners in the transgender prisoner population. This is substantiated by anecdotal evidence from prisoners and professionals as well as published academic studies. A system that makes it possible to self-declare gender and become legally female means these prisoners could be transferred to women's prisons in the future.
The women's prison population is small (just 5% of the total prison population) and their offender profile is very different to that of male prisoners. Most women prisoners have been convicted of non-violent offences (84%). They are also a vulnerable group, with 46% known to be victims of domestic violence and 54% having histories of childhood trauma including sexual abuse. This vulnerable group of women may be forced to share their living space with male-bodied prisoners with a history of violence and/or sexual crimes. The impact on these women must be assessed. It is important that the rights of transgender people are balanced carefully against the rights of this vulnerable population of women.
Information supplied to the home office by GIRES (Gender Identity Research and Education Society) suggests that 1% of the UK population identifies as transgender. Based on the current male prisoner population in England and Wales (approximately 80,000), we would therefore expect there to be in the region of 800 TIMs in prison. The government figure of 70 trans-identifying people and our own study finding of at least 113 TIMs are therefore likely to be very conservative estimates. This may reflect the inadequate reporting of trans-identifying inmates by prisons or a reluctance among some inmates to disclose that they identify as transgender. In either case, implementation of the proposed reforms to the GRA that will make it easier to become legally female could lead to many hundreds becoming eligible for transfer to women's prisons. The women's prison population is currently around 4000 prisoners across 12 prisons in England and Wales. If 800 transgender inmates need to be transferred to the female estate this will significantly increase the occupancy of women's prisons and will require the allocation of many more women's prison places. This could be the equivalent of needing an extra two female prisons to accommodate the increase in numbers.
It is not only sex-offending males who may self-declare themselves as women under the proposed reforms to the GRA. Any male prisoner, whatever their crime, be it domestic violence against women, murder and torture of women, or any other offence, could self-declare themselves as female and demand to be moved to a female prison.
CONCLUSION
Our study indicates that half of the trans-identifying males in prison are convicted sex offenders or dangerous category A prisoners. Despite the lack of a more complete data set, it is clear that the prevalence of sex offenders amongst the trans-identifying male prison population is at least as high as that of male offenders. If self-declaration of gender becomes law, these trans-identifying males will become eligible for transfer to women's prisons. We believe this prisoner offence profile represents a serious risk to the safety, privacy, and dignity of women in prison. Further studies are necessary to accurately determine the number of trans-identifying inmates in prison and their offender profiles, especially including sexual and violent crimes against women. For this reason, we recommend that the government start recording these data accurately for all prisons. It is only through accurate recording that the impact of the proposed reforms to the Gender Recognition Act 2004 can be properly assessed.
---
Dr Nicola Williams was on Good Morning Britain, discussing this issue with Piers Morgan, Susanna Reid and India Willoughby.
---
The Sunday Times ran a story on this research – paywall, but you can sign up for two free articles a week.