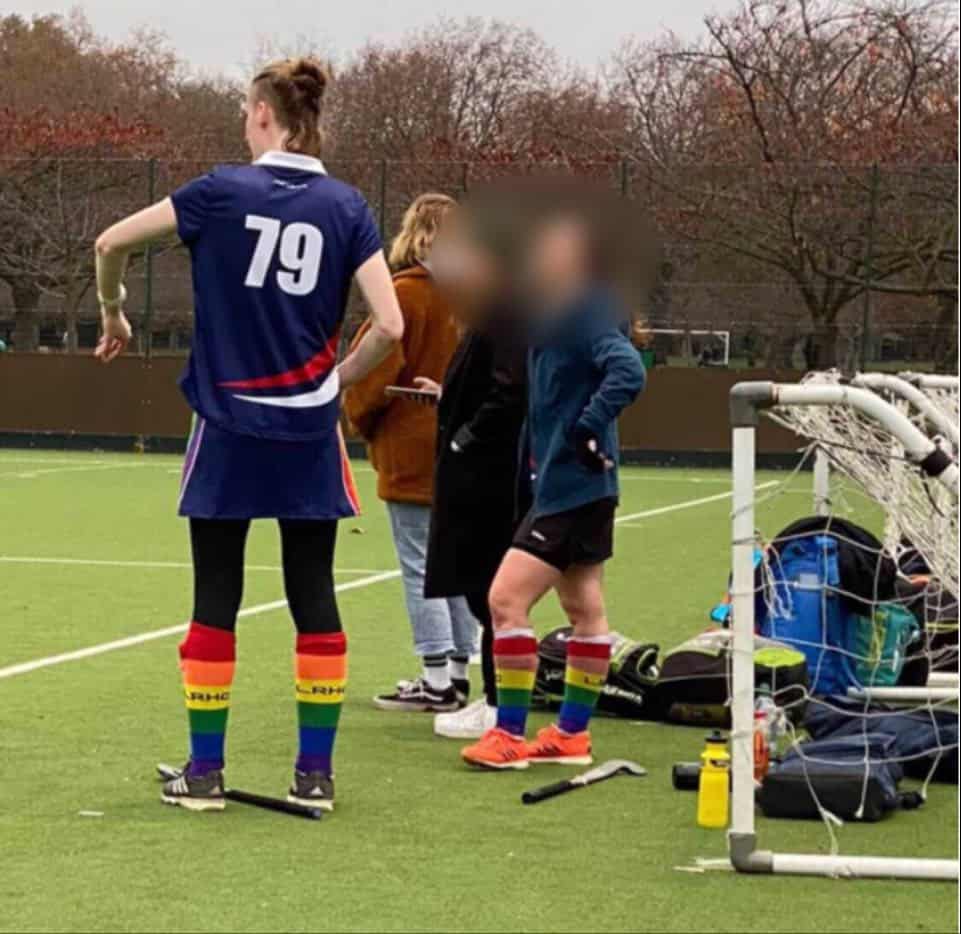 How many trans athletes are there? Is it really an issue to let a few people live their best lives? What harm does it do?
If you think this is a very small problem, think again. This is already hitting women's sport right across the UK. Legally-female males, with GRCs, are only a few thousand. But there are many thousands of males claiming a female "gender identity" who don't bother with a GRC, or with hormones or surgery. How many are taking to the field in women's teams? National governing bodies are not counting, and no one else is allowed to point out when a male presents as a woman.
It's not reported, because only those who are there know, and they have to keep quiet. The match referee can't say anything. Transphobic. The other team can't complain. Transphobic. But one male affects many females. It's not just the one who loses her place. Other team mates who worry about getting hurt training with them may also withdraw. Women in the opposing teams they meet are also at risk – and may not know until they hear the deep voice or get barged off the ball with unusual force. School teams are totally unprepared for this: who's liable if a teenage girl gets hurt in a match because the other team had a trans-identifying male on their side?
It's happening in community sports teams all over the country, but no one is keeping track of the impact on females. For every trans-identifying male, there are potentially dozens of females whose participation is affected. Those who self-exclude generally can't say why. This is not increasing inclusion. It is reducing female participation.
Here are a few real examples we've been told of, most in confidence because women are afraid of the consequences for them.
Cycling: the trans leader of a women's group
Bo Novak, told how she stopped attending women-only road cycling sessions called 'Breeze Rides' after she discovered a transgender woman was leading the group she joined in South West England.
Ms Novak, 55, one of the only women who agreed to go on record about her experience, explained: 'I wasn't really what you call a cyclist as an adult. But I did get myself a bike and had gone to a mixed group previously and found that even though I was in the slowest group it was still quite intense so I couldn't really keep up. So I was really thrilled when I heard about Breeze. It was advertised as leisure rides for women in small groups led by a woman.'
However, Ms Novak's joy at discovering a women's cycling group turned to confusion when she swapped from one Breeze club to another in her region and was faced with a transgender ride leader.
'The thing that I really had difficulty with was this male-bodied person was leading the group not just taking part,' Ms Novak, a care worker, said. 'As the ride leader the physical differences were very much more apparent in terms of what they thought was a normal pace and distance. He was much stronger than the rest of us and went too fast. When I came back from the ride I actually wrote an email to Breeze saying I thought it should be made clearer that "women only" meant women and trans women.
'I also said I didn't think it was appropriate to deprive a woman who hasn't had the opportunities that someone male in the sport would have for leading. But I got absolutely no reply. So it just felt like I was shouting into the void and basically I didn't go again.'
Hockey: "the sense of fairness was not there"
A female hockey player also told how she felt forced to take herself out of a match when she was given the task of marking a 6ft 4 transgender opponent.
She said the incident happened last November when her team, which is part of an amateur female hockey league in London, played against an LBTQ+ club called the 'London Royals'.
'The first I saw was that the opposing team were wearing rainbow-coloured socks,' the hockey player, who asked to remain anonymous, recalled. 'I remarked on it and I was told by the captain of my team that we were playing an LGBTQ team. At which point I said I hope there are no biological males on the pitch. Then sure enough when I got on the hockey pitch I was marking a biological man.
'The person was 6ft 4 and had an Adam's apple. Every time I was going for the ball the transgender woman was far faster than I was and after a few minutes I just took myself off the pitch. I was devastated walking off and in tears. I came to play against a female opposition and there was a male on the pitch. I just felt the sense of fairness was not there.'
But despite her distress the female hockey player felt she was unable to complain in case she was branded a 'transphobe' and in a worst-case scenario removed from her club. She said: 'I really didn't want that to happen because I enjoy playing hockey.'
Cricket: "unacceptable, uncomfortable and dangerous"
A further disturbing case reported to us involved a coach who complained to the England Cricket Board (ECB) about a 'trans' cricketer being allowed to take part in a 'women and girls' league'.
The cricket coach said he was concerned about the safety of the younger girls playing in the league – the youngest of which is 12 years old – being expected to play against an adult who has switched from a male to a female identity and from men's to women's cricket.
In an email we sent to the ECB on behalf of concerned parents and coaches, he wrote: 'My fellow coaches and I are already aware of parents who will not allow their daughters to play in the matches this player is involved in for the forthcoming season, primarily due to how hard this player hits the ball and we are concerned this will not only prevent clubs putting teams out but also discourage new players from joining hard ball teams.'
He added: 'This is a development league for women & girls cricket. With our consent as parents we allow our daughters to play good quality cricket, with differing abilities. This is often, and has been the case with both my daughters, a fantastic stepping stone into the structured way of playing cricket with other girls, mums and women. It is therefore of concern that they have been involved in a match against a team with a transitioned man. As father to these girls (aged 14 & 16) I find that unacceptable, uncomfortable and dangerous, both morally and physically.'
We met with ECB's medical director to discuss the serious concerns the coach had raised regarding the trans cricketer but as yet we have not heard of any resolution to this issue.
Walking football: Male in, Muslim out
A fourth whistleblower, who again asked to keep her identity secret, disclosed how members of a women's 'walking football' club for older or less mobile players were 'shocked' when a transgender woman joined.
Describing what happened in July last year at the club, based in Lancashire, Northern England, she said: 'The person was a 60-year-old with a male body, but he had French plaits, dangly earrings and long fingernails. When he turned up he was obviously male and some of us were in shock, but felt we were not allowed to say anything. As the weeks went by people were becoming more unhappy with what was happening. He was getting to the ball quicker and hitting it harder than any of us.'
When the women finally began raising complaints, a meeting was called by the charity overseeing the walking club to discuss the matter.
But the whistleblower said some of the older players became extremely fearful when they were informed by a younger player that the agenda would include 'transphobia' and 'hate crimes'.
'Some ladies in the walking football group are in their 60s and they were terrified,' she said. 'They were worried if the police were going to come and are we going to get arrested?'
During a subsequent Zoom meeting with the charitable trust the women were informed that if they were not willing to accept the transgender player they should join another club, the walking football player said.
A Muslim player who complained that playing in a mixed team was against her religion was further told there was no problem because her 'trans' teammate was a woman, she added. This woman did not return to the team.
'A lot of us now can't speak up for fear of being called transphobic and we're not,' the whistleblower said. 'We just want a safe space for us to play where we're all on an equal footing physically. It was our space and now we've lost it. So slowly the numbers have dwindled.'
The club also has mixed teams, in which the trans player also plays.
Football: "You could be thrown out of uni"
Another sportswoman, a female footballer who plays for a women's league team in Scotland said she too had been warned off voicing objections after a transgender player was admitted to a Scottish women's football league.
The 21-year-old university student said her team was given no warning they would be facing a transgender opponent at a match against United Glasgow in the women's Scottish Championship Cup last August.
She said: 'The play started and all of a sudden I heard this very deep, male voice on the pitch. It completely threw me because I thought surely this can't be allowed. They had grown their hair out, but had very masculine features and a male face.'
The female footballer said she later raised concerns with her coach that if it became accepted practice for 'trans' competitors to play in female matches, potentially in the future women players could be faced with 'eleven biological males' on the pitch.
However, she decided against making a formal complaint after a friend warned her it would be 'social suicide to make a fuss' and might put her at risk of being kicked off her university course.
Junior football
'My daughter was told by the teacher there was a boy on the other team but not to say anything because of discrimination. He was much faster, and he scored two goals.' (Father of 13 year old in London)
'At a street stall in Ayr, a mother of a 13-year-old girl told me her daughter had lost her place as a goalkeeper on a girls' football team to a boy. That wee girl is now sitting at home wondering why adults are telling her to deny the reality of what she can see – a boy has taken her place in the team.' (from a meeting with a Scottish minister)
Rugby
'The rugby club is only tiny so both teams share one open shower. They had to go in not knowing if he'd be in there or not. Knowing if he was there'd be nothing that they as women could do about a man being in their showers. Is this really the future?'
And a different case:
'My daughter was always going to play rugby "like Mummy", but this is now on hold until we get clarity on the RFU's position on mixed sex rugby. We can't have her falling in love with the game and then being put at risk by playing against someone who has gone through male puberty. She's doing football and netball instead, and we will wait until the policy is clarified.'
Judo
'My eleven-year-old daughter is in a judo club. There is a transwoman (born male, lives as a woman). I literally take absolutely no issue with this. She's always very nice and I respect her bravery, especially where we live, to live as a woman. However, whilst she's not competing currently, I understand she's hoping to.
'A few months ago, I paid for my daughter to attend a ladies-only training day. The Sensei started the season by saying, "I've organised today because there are few girls and women in judo, and men have much stronger grip, are taller, heavier and stronger all around, so I wanted to arrange today, so that us ladies can have a day where we all just practice with other ladies". The elephant in the room, of course, was the 6ft transgender female waiting to throw all the women around like rags dolls.
'How do I deal with this if it gets to competition stage? My 11 works tirelessly to train both at home and at club. It seems unfair that she then has to get on a mat with, without meaning to be disrespectful, what is, essentially a man with a bra. My daughter feels very deflated and I don't know how to deal with it or what to say.'
Another judo story
My daughter was world silver in Judo. 10 years of getting up at 5am to train, and staying up til 10pm to train. I paid a lot of money for her to go on a 3-day women's Judo course. Day 1: Sensei explained the reason for the course was that there are few women in Judo in Cornwall and it's important they get competition-ready by fighting other women, as men are much stronger, have larger hands, thicker thighs, stronger shoulders, and employ a different technique. Nobody mentioned the 6ft, 16st transwoman on the course, who went on to immediately break the finger of one woman, dislocate the shoulder of another and throw my daughter around the mat like a terrier with a rat in its mouth. My daughter gave up Judo that day.
Netball
'We're in our 20s and 30s, he's in his 50s. he plays in a skirt and shares our changing room. None of the girls like it, but we can't say anything.'
Responses from the ECB and British Cycling
A spokeswoman for the ECB said: 'We want cricket to be inclusive for everyone, and have a number of safety guidelines and regulations in place to help people play cricket safely.
'In addition, this year we are piloting a new policy to help clubs and leagues in recreational cricket to address any issues where there are safety concerns because of a disparity between players and where the issues cannot be dealt with through existing safety mechanisms.
'This policy applies whatever the reason for disparity, for instance elite and professional players playing at recreational clubs.'
The spokeswoman added that in light of the Sport Councils' updated guidance for community sport issued in September, which stated that 'testosterone suppression is unlikely to guarantee fairness between transgender women and natal females in gender affected sports', it was reviewing its transgender participation policy.
A British Cycling spokesman said: 'Breeze rides are non-competitive bike rides grouped into three categories – easy-going, steady and challenging – and are led by one of over 2,000 volunteer Breeze Champions who are trained to go at the speed of the slowest rider so nobody is left behind.'
'They are open to transgender people who are living their life as a woman and, although we have no record of Bo's correspondence, we would welcome feedback at any time from her or anyone unhappy with their experience on a Breeze ride via our complaints team, who can be contacted in confidence.'
Tell us your story!
Contact us if you or someone you know has experience of trans inclusion, good or bad.
There should be a place in sport for everyone, of all gender identities and none. This must not be at the expense of women and girls.