How did we get here?
Back in December 2015 the government announced there would be a review of the care and management of transgender offenders. This led to the launch one year later of a new prison policy by HMPPS (Her Majesties Prison and Probation Service) called PSI17/2016.
Two external consultants were used to inform the review process. These were Peter Dawson (Deputy Director, Prison Reform Trust) and Jay Stewart (Director, Gendered Intelligence). The review gathered evidence from a wide range of stakeholders, including many in the transgender community, and met transgender prisoners serving both long and short sentences. To our knowledge female prisoners who may be forced to live alongside male-born prisoners were not consulted and no organisations specialising in advocacy work for women were involved in the review (such as Women In Prison)
The new transgender policy brought with it many welcome improvements including making sure the transgender status of a prisoner is given due consideration. It ensures that transgender prisoners can express their preferred gender during their time in prison, and have the support and resources to do so.
However, the review also relaxed the rules regarding eligibility to live in the prison that matched someone's preferred gender identity. Previously to this, legal gender change (through acquisition of a Gender Recognition Certificate) and/or having had genital surgery were the main determinants of eligibility. The new policy shifted the emphasis away from legal gender and instead decisions about location are now based on the strength of evidence of living in the gender the prisoner identifies with.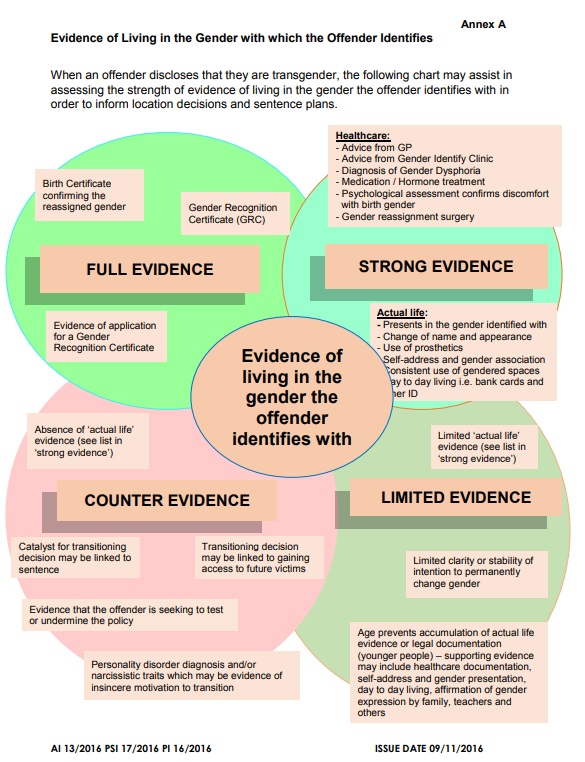 Diagram taken from PSI17/2016
This meant, that for the first time, legally male prisoners with fully intact male bodies could be allowed to live freely alongside female prisoners in one of the 12 women's prisons in England.
Fair Play For Women and others have raised safeguarding concerns for the safety and privacy of female inmates many times. These concerns were realised following the shocking news revealed in September 2018 that Karen White, a fully intact male-born transgender inmate, had sexually assaulted at least 2 female prisoners at New Hall women's prison 12 months earlier.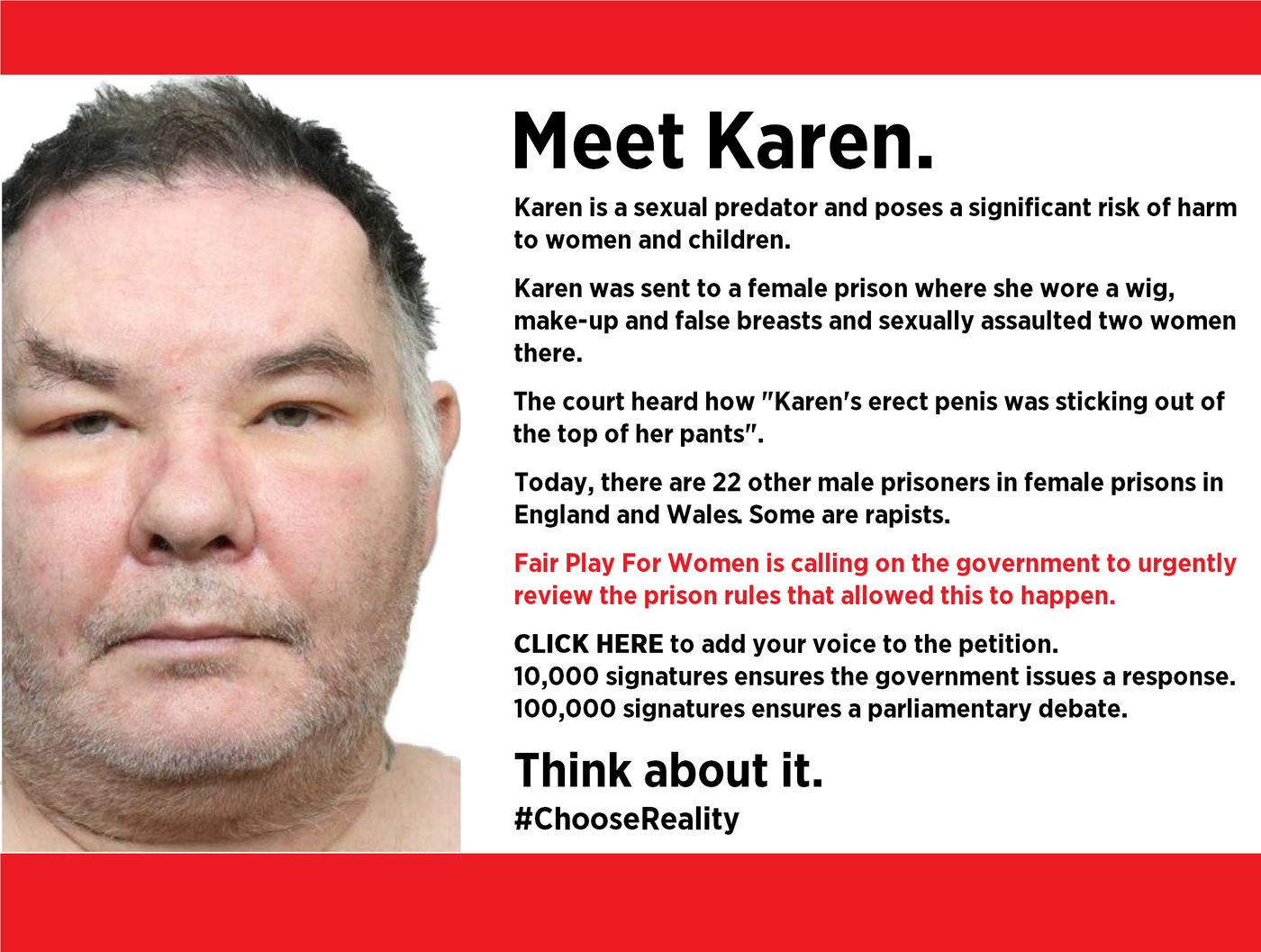 This failure of the risk assessment process was made possible under the new prison rules. Karen White is a convicted paedophile and had a history of rape allegations on file (now convictions). White is legally male, does not have a GRC and has not had genital surgery. Under previous prison policy White would not have been eligible for transfer to a women's prison.
Despite MP calls for an urgent parliamentary debate in response to the Karen White case this was rejected by the Speaker of the House. However, the following ministerial response was given by Victoria Atkins during a parliamentary debate on Self-Identification Of Gender in November this year (2018).
The issue of transgender offenders has understandably been raised as well. The case of Karen White in particular has been examined. I want to be clear that the case of Karen White is appalling. There was a series of terrible failings that should never have happened. In the light of that, my ministerial colleagues at the Ministry of Justice are looking again at the decision-making systems that apply to the management of transgender prisoners, as well as how they were applied in that case.
Based on this statement it is assumed that an internal review process is now being conducted, although no outcome or changes have yet been announced. It is highly likely that this review is being performed by the HMPPS Trans Advisory Board. This group was established to support PSI17/2016 and review progress and any issues that arise.
Extract from Transgender Offender review Dec 2015:
What's happening now?
The Trans Advisory Board includes representation from the GEO (Government Equalities Office), HMPPS (previously called NOMS), MoJ and experts in both legal and health matters. There are also 2 positions for experts in transgender issues. These positions are currently held by Jay Stewart, Director of Gendered Intelligence and Jenny-Ann Bishop, Chair of TransForum Manchester. Head of women's prisons, Steve Bradford (Prison Group Director for Women's prisons) is also on the Board along with a member of the HMPPS Women's policy team.
No official comment has been made by anyone in the MoJ or HMPSS. However, one member of the Trans Advisory Board, Jenny-Ann Bishop, has commented on the Karen White case publicly. Extract from article below:
a local transgender case board made up of prison managers and psychologists decides where to place prisoners such as White within three days of a prisoner being taken into custody. The board allows the prisoner to make representations, and considers any risks and whether the individual has been living in the gender with which they identify. A "complex case board" can be set up to handle cases involving those aged 21 and under and for those at risk of causing harm to themselves or others. It is believed the decision to place White in a women's prison was made only at the first level – by a local case board. Bishop says the board should have taken into account all offending history but failed to do so.
Jenny-Ann Bishop is part of the HMPPS group most likely reviewing the lessons to be learnt from the Karen White case, but appears to have already formed an opinion and was also quoted saying:
The case boards are a good way of doing things – you can't say the system is wrong when it goes wrong once. It is almost the exception that proves the rule – you've just got to look at what went wrong and make sure it doesn't happen again. No system is perfect. It's human nature that people will sometimes get it wrong.
The consequences experienced by the female prisoners 'when people sometimes get it wrong' is sexual attack by a male rapist. This system MUST be perfect and this comment by Bishop does not instil confidence is this review process. Indeed, some may ask why the Transgender Advisory Board is reviewing the policy that led to the attack of female prisoners at all? Is a board consisting of transgender members, one of whom helped create the policy in the first place, going to provide an impartial and effective review? Why is this not being reviewed by the Women's Advisory Board? Why aren't advocates for the female prisoners, the ones who are harmed when the policy goes wrong, part of this review process? Why hasn't Fair Play For Women, or other groups with an expertise and focus on the safety of female prisoners, been asked to participate in the review process?
What do we want to happen?
We are seriously disappointed with the lack of transparency and consultation with women's groups and do not feel confident that there will be sufficient focus on the needs of female prisoners in this policy review. We have started a government petition calling for women's organisations like ours to be involved in this review process. 10,000 signatures will ensure a government response.
UPDATE: WE HAVE REACHED THE REQUIRED 10,000 SIGNATURES FORCING THE GOVERNMENT TO RESPOND. A NEW POLICY FRAMEWORK US UNDER DEVELOPMENT AND WOMEN'S GROUPS WILL BE CONSULTED. THANK YOU TO EVERYONE WHO SIGNED.
Jenny-Ann Bishop is correct to say case-by-case decision making and risk assessments are never 100% fool-proof. They involve human judgement and people get things wrong. This is why Fair Play For Women wants to see policy changed so that prisoners are located based on the SEX THEY WERE BORN.
Women's prisons should be for female inmates only.
Unlike transgender case boards, this process is 100% fool-proof. This rule would guarantee that no female inmate was ever attacked by a male inmate again. Separating the two sexes to provide safety and privacy for women is the most reliable safeguarding method there is. It is also lawful under the Equality Act exemptions which allows for exclusion based on the protected characteristics of sex or gender reassignment for reasons of safety, privacy and fairness for women.
If male-born transgender prisoners are at risk from harm in male prisons or feel like they don't belong there, a third space option should be available. This could include a transgender unit, wing or prison depending on the space required. This offers peer support and the opportunity for specialised support tailored to the needs of transgender people. This could be a fair solution for all. It provides safety and support for transgender prisoners without putting female inmates at risk of harm.
We hope the Trans Advisory Board thoroughly investigates this option and we will be looking for clear evidence that they have done so once the outcome of the review is announced at some point in the future.