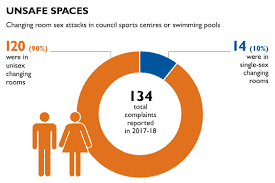 There is unequivocal evidence that unisex changing rooms are more dangerous for women and girls than single-sex facilities. 
Spaces where women are undressed should be single-sex as a matter of course. This is obvious, elementary safeguarding. The case was made in law when the single-sex exceptions to the Equality Act 2010 were specified. These include places where women may be in a state of undress or vulnerability.
The problem when this common-sense approach is ignored was revealed by Andrew Gilligan in The Times in 2018. Through a freedom of information request, he found that the vast majority – just under 90 per cent – of complaints regarding changing room sexual assaults, voyeurism or harassment reported at leisure centres and public swimming pools took place in unisex facilities. Of these, sexual attacks made up 67 per cent.
There were 134 reports of sexual assault in changing rooms over the two year period 2017 to 2018. Of these, 120 took place in gender-neutral changing rooms compared to just 14 in single-sex changing areas. A further 46 sexual assault allegations were made about attacks in other areas such as in the pool, in a sports hall or corridors. These are not included in the percentages.
Trans rights activists claim that sex-segregated facilities would not deter someone who wanted to commit a sexual crime. If this were true you would expect incidents to be evenly distributed across single and mixed-sex changing spaces. Clearly they are not.
It is not a huge logical leap to realise that if self ID into single sex facilities becomes a socially-accepted norm, those spaces effectively become mixed sex too, as there would be no basis for females to object, knowing males could claim a trans identity if challenged. One could reasonably extrapolate the assault statistics to apply there too. One of the simplest, most effective safeguarding measures which helps protect women and girls would be lost.
Read more:
 Advice to service providers about female-only changing rooms
Gender-neutral toilets: Our response to government's call for evidence on toilet provision in the UK
Advice to policy makers: You don't have to decide if 'transwomen are women' or not