In 2019 Fair Play For Women submitted a series of Freedom of Information requests to find out how the police record the sex of a suspect when a crime is reported.
We found police commonly record self-declared gender identity instead of birth sex; even when the crime is rape.
This means suspected and convicted rapists are recorded in official statistics as female if they no longer wish to identify with their male birth sex.
While some police forces said they record the fact if someone identifies as transgender, this information does not appear on government crime figures, which provides only male or female options. Transgender status is stated only if the person is a victim of transgender hate crime.
Our work was featured in this article by the Sunday Times.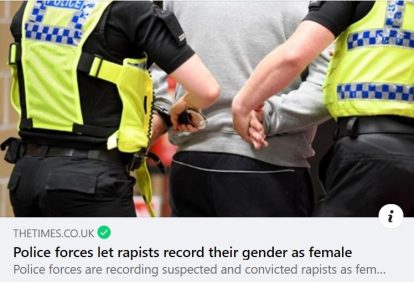 FOI requests were submitted to 46 regional forces and five national services: Transport Police, Civil Nuclear Constabulary, Ministry of Defence Police, National Police Air Service and the Port of Dover Police. Of the 51 total requests submitted:
· 16 police forces said they recorded data under self-declaration rather than birth sex
· 8 of these police forces further specified that this would happen even if the crime committed is rape
· 2 forces refused to answer the questions.
· 3 forces gave an overview answer rather than answer each question individually
· 3 forces said they had no data recorded or available (even after appeal)
· 3 services said they were outside police frameworks (MOD police, National Police Air Service and Port of Dover Police), as they do not arrest people
· 2 police forces said they followed the guidance issued by the college of policing
· 1 force said they simply recorded male / female / unknown, but did not specify whether this was by gender self ID, or birth sex
· 14 police forces answered the individual questions
· 20 forces did not reply at all.
In total, 16 police forces confirmed that they record the sex of an offender based on self-identified gender. Of those, one said they would record sex based on self-identified gender, with the exception of a transgender woman charged with rape. In this case the offender would be identified as male. Eight forces confirmed in answer to a specific question that they would record a transgender woman, accused of rape, as female. Asked whether there would be a separate record of their transgender status, most forces said they would not unless they were a victim of a hate crime as a result of that status.
Guidance on the recording of sex and gender under the police Annual Data Requirement (ADR) seems to be unclear to forces. Asked what explanatory guidance they had been given as to what to record in the 'gender' category of the ADR, forces offered a variety of responses. Some report that Home Office guidelines only permit the recording of Male or Female. Others responded that no guidance was available. Others that they followed the guidelines from the National Police Chiefs Council (NPCC), which recommends using people's self-identified gender rather than natal sex.
Narrative: A snapshot of the verbatim replies (see end for copies of each FOI response)
Question 1: What is the explanatory guidance that has been given to police about what information to record in the 'gender' category of the ADR*?
*The annual data requirement (ADR) is a list of all requests for data made to all police forces in England and Wales under the Home Secretary's statutory powers and is used to report crime and policing related statistics.
"Within the census the guidance notes state 'Please enter one of the following codes: F Female M Male"

"A full day's training (September 2018) of the GRA has been provided to key individuals from all business areas. This was delivered by a Police Barrister and covered various aspects of policing as well as recording on force systems after which each was required to review their business areas and make any necessary updates or changes to ensure compliance. There has been some national advice which is used to inform the handling of complaints and complex decisions."

"Hertfordshire Constabulary classes the gender of a victim or offender how they self – identify themselves. At this present time there are no definitions regarding this new type of recording although there are plans to review this in the future."

"Any guidance on the completion of Annual Data Requirements (ADR) would be provided by the Home Office. Kent Police holds no information specific to guidance concerning the completion of gender categories when completing ADRs. The gender options available when completing ADRs are Male, Female, and Unknown."

"SYP [South Yorkshire Police] has received no explanatory guidance on how to record gender for ADR purposes."

"No information held by Dyfed-Powys Police due to the fact that the Home Office guidance notes provided to the force do not contain explanatory guidance regarding the recording of gender"

"British Transport Police follows the NPCC (National Police Chiefs Council) guidance regarding the recording of gender. British Transport Police treats all people (victims, offenders, witnesses) with dignity and records their gender according to the gender that they present as, and/or how they self-identify their gender."
Question 2: In the gender category of the ADR does your police force record a victim or suspects natal sex (the sex they were assigned at birth), their legal sex (the sex on their birth certificate), or their self-declared gender identity?
"Self-declared gender"

"The sex that the person presents in. Don't check birth certificates"

"Self-declared or self-presenting gender"

"Record gender as they identify themselves, regardless of their natal sex"

"The Greater Manchester Police Equality Monitoring Policy frames the question in the following way: Gender? Is your gender identity the same as the gender you were assigned at birth? Yes / No / Prefer not to say, Sex? Male / Female. Whilst in some operational processes the force may utilise a third option of 'unknown' when undertaking equality monitoring male and female are only options to be presented."

"Self ID"

"Record the self-defined gender"

"Gender will be recorded in accordance with the individual's wishes"

"Most of the ADR returns self-declared gender, If not possible the officer's perception of gender"

"The only options given for the ADR return are 'Male' and 'Female'. Victims, suspects and perpetrators will be treated as their self-declared gender identity and be recorded as such on force systems; therefore they will be reported within any ADR as the gender that they identify as to officers." "Self-declared gender identity. If the victim/suspect confirms that they are TG then their current nominal file will reflect their current gender and an alias record will be created for their previous name/gender. The ADR would return the current gender on the master file and not the alias."
Question 3: If a male-born person self-identifies as female will this be recorded by you in the ADR as female or male?
"Female." (11 answered this)

"This will be recorded on the ADR in line with how the gender is recorded on the source system."
Question 4: If a male-born person self-identifies as non-binary will this be recorded by you in the ADR as female or male or something else?
"Only has male/female. Would seek guidance from Home Office"

"male/female/unknown"

"Male/female/unknown/unspecified (blank)"

"Male/female/unisex or unspecified"

"This will be recorded on the ADR in line with how the gender is recorded on the source system."

"Indeterminate"
Question 5 If someone is transgender (identifies as a different gender to the sex assigned at birth) is this recorded by you separately in the ADR.
"NO – does not record if someone is transgender"

"NO -There is a category, but not routinely recorded, only if information provided voluntarily by TG or if relevant to nature of crime"

"MAYBE – We can record if a person is transgender on their nominal record and we can/do also update the record to their new name and gender status."

"NO -TG status not recorded separately in the ADR. The only exception to this is where a victim, having been attacked or victimised because of a transgender status, can be shown to be the victim of transgender hate."

"NO -There is no requirement within the ADR to identify whether an individual is transgender."

"Only if person identifies as transgender (then trans man / trans woman)"
Question 6: If a male-born person self-identifies as female and is arrested/convicted for the crime of rape will you record the gender of the suspect/perpetrator in the ADR as male or female?
"Male" (only Derbyshire)

"Female if previously known to police, then link to previous names/identities"

"Female" (seven specify this under this question).
Copies of all 16 FOI responses received: