1.0 Introduction
In the UK there are three groups of people all staking a claim to the word woman. Under UK equality law a women is defined as a 'female of any age' and the overwhelming majority of women are legally female by virtue of birth. However, a small number of male-born people (a couple of thousand) are also technically defined as women, having legally changed their sex classification to female by using the legal powers of the Gender Recognition Act 2004. There is also a third group of people, also male-born, who self-identity as women. Self-identification currently confers no legal status and these people remain legally male and therefore men by definition. This article discusses the way UK equality law applies to each of these three groups, how their rights are fairly balanced and how changes to gender laws will impact on all three. Trans rights do not exist in isolation. A fair society balances the rights of all groups and acknowledges both our differences and our similarities. Equality is not about treating everyone the same. It is about fairness for all. Sometimes the fairest thing to do is to treat people differently.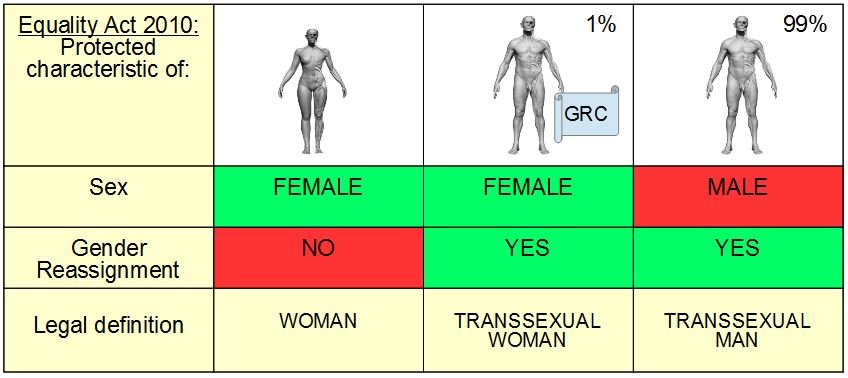 Quick jump to:
Note: the terminology used in this report is taken directly from the definitions in the Equality Act 2010. It is not the same as that used colloquially but has been chosen to accurately reflect each group's legal status according to their membership or otherwise of the protected characteristics of gender reassignment (transsexual) or sex (female/woman or male/man).
2.0 How each of the three groups are defined by law.
2.1 Women
A woman is defined as a female of any age (Section 212 Equality Act) and is covered by the protected characteristic of sex.
This legislation underpins women's rights and means a woman cannot be treated unfairly because of her sex. It is the law a woman can use to defend herself against sexism.
Legal definition: "In relation to the protected characteristic of sex (a) a reference to a person who has a particular protected characteristic is a reference to a man or to a woman; (b) a reference to persons who share a protected characteristic is a reference to persons of the same sex".
2.2 Self-identified transwomen (no GRC)
Transgender people are covered by the protected characteristic of gender reassignment. It means that transgender people must not be treated unfairly because they are transgender.
Legal definition: "A person has the protected characteristic of gender reassignment if the person is proposing to undergo, is undergoing or has undergone a process (or part of a process) for the purpose of reassigning the person's sex by changing physiological or other attributes of sex."
The legal definition of this protected characteristic is very broad and non-medicalised. A person can self-identify as transgender by simply proposing to undergo a process of gender reassignment. The Equality and Human Rights Commission (EHRC) has published statutory code to help interpret the law, and explains that a child will be covered even if they are too young to make a decision to reassign their gender. They will nonetheless be considered to have started their personal process of change, as manifested by, for example, changing their mode of dress.
The process that a person undertakes to reassign their sex may include physiological (e.g. medical or surgical) changes, but it does not have to. The process can involve other attributes of sex. 'Other attributes' is not defined and therefore could be interpreted to include anything considered to be associated with someone's sex, perhaps simply a name change, use of different pronouns, or maybe a hairstyle.
The legal term used to refer to someone covered by this protected characteristic is Transsexual. This legal term has a much wider technical meaning to the colloquial use of the word transsexual and encompasses anyone irrespective of whether someone has gender dysphoria or whether they intend / desire to have any surgery to modify their bodies to reflect characteristics of the opposite sex.
EHRC statutory code says that "service providers should treat transsexual people according to the gender role in which they present" (although legal exclusions do apply). However, the protected characteristic of gender reassignment does NOT mean that the person has actually become their preferred sex. Their legal sex class remains the same as their biological and birth sex. For this reason a male who self-identifies as transgender or as a woman is nevertheless male in the eyes of the law. Under UK law the term used for a male person is a man.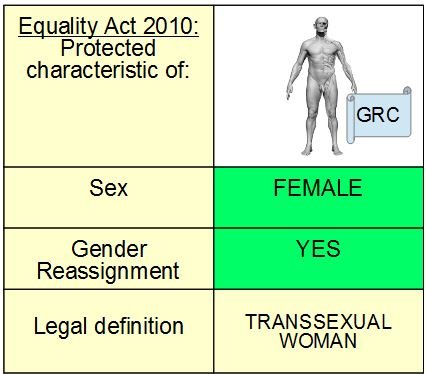 2.3 Transwomen with a GRC
This group of people is covered by the protected characteristic of gender reassignment but have ALSO legally switched their sex class within the protected characteristic of sex to female.
The ability to legally switch sex class is provided by a different law called the Gender Recognition Act 2004. Changing legal sex class requires a diagnosis of gender dysphoria and evidence of 2 years 'living in role' as a woman. It does NOT require medical treatment or surgery modifications (such as removal of a penis).
The UK government has proposed to reform this law to make this a self-identification process. However, this change in the law is not yet in place and no bill has been drafted to date.
Legal definition: Where a full gender recognition certificate (GRC) is issued to a person, the person's gender becomes for all purposes the acquired gender (so that, if the acquired gender is the male gender, the person's sex becomes that of a man and, if it is the female gender, the person's sex becomes that of a woman).
3.0 Sex differences between the three groups
In most day-to-day situations, by law, people should be treated according to the gender role in which they present. However, there will be some scenarios when someone's biological sex is the most important determinate of how someone is fairly treated. UK Equality Law acknowledges this reality and there are a number of exceptions that can be invoked to allow the lawful discrimination of males (irrespective of gender identity) from female-only spaces. The exceptions are briefly summarised below. For a more in depth discussion go to https://fairplayforwomen.com/equality-act-2010_womens-rights/
3.1 Sex-based exemptions
There are four sex-based exemptions within the Equality Act to allow the lawful exclusion of natal males from female spaces and acknowledges the need for privacy, dignity, safety and fairness.
Natal males can be excluded even if they have legally switched to female under the GRA2004.
These exemptions are discretionary. In all cases an equality impact assessment (looking at the impact on all involved) must justify their use by showing it is a "proportionate means to a legitimate aim". This is a subjective test that will be determined by what is considered reasonable by society. For this reason it is important that women's voices are heard within public discourse so the need for privacy, dignity, safety and fairness is not forgotten or overlooked.
Single Sex services: For example it must be shown that a combined service would be less effective than a separate service. The need to uphold privacy and dignity between the sexes is acknowledged by the EHCR with guidance relating to situations where users need special care, supervision or attention (e.g. hospitals) or when a service is used by more than one person at a time and/or physical contact may occur.
Communal Accommodation: It is standard practice for group sleeping arrangements to be restricted to members of the same sex for privacy reasons. It also also safeguarding common sense, particularly for children and vulnerable adults.
Occupational Requirements: It is lawful to restrict a job role to a natal female only, if it is considered a crucial requirement of the post.
Competitive Sports: This section allows separate sporting competitions to continue to be organised for men and women where physical strength, stamina or physique are major factors in determining success or failure, and in which one sex is generally at a disadvantage in comparison with the other. It also makes it lawful to restrict participation of transsexual people in such competitions if this is necessary to uphold fair or safe competition.
3.2 Sex-based eligibility
There are three sex-based eligibility rules within the Equality Act that clearly set out instances when admission can be legally based on the protected characteristic of sex (female). This means males can be legally refused membership.
This provides the legal framework for single sex schools, clubs and election shortlists.
4.0 How does the law balance the rights of these groups in practice
In most day-to-day situations, unless there is a good reason not to, the default position is that everyone expects to be treated according to their preferred identity, and this includes trans people. However, when someone's sex is relevant to a situation these three groups can legally be treated differently.
4.1 Sex-based eligibility
Schools, clubs and election shortlists can all lawfully restrict membership based on the protected characteristic of the female sex. It is discretionary, but if they do wish to be female-only this must be based on someone's legal sex and not gender identity. A male transsexual who self-identifies as a woman is NOT eligible for inclusion based on these rules and can be lawfully excluded. However, a male transsexual who has legally switched sex class to female under the GRA2004 is eligible for membership because they share the protected characteristic of the female sex with natal females. Girls' schools can only admit natal females because male children cannot change legal sex under GRA2004.
There are two well known examples of organisations ignoring the rules for female-only membership: Girlguiding and the Labour Party. Despite being a single-sex association Girlguiding's membership policy now allows boys who identify as girls to join. Irrespective of a child's preferred gender identity the legal sex class of all children remains their birth sex. Legal sex change under the GRA2004 is not allowed under the age of 18 years. As such, Girlguiding are breach of the rules for single-characteristic associations and a formal complaint has been made by Fair Play For Women to the EHRC to investigate.
Labour party policy is that all self-identifying women will be treated as women when it comes to roles such as women's officers and places funded by the Jo Cox women's memorial fund. However, this policy should not be applied to the all-women shortlist, a specific legal instrument that allows 100% of places on an election shortlist to be given elusively to people who share the protected characteristic of the female sex. A legal process has now been started which may lead to this policy being tested in the courts.
4.2 Sex-based exemptions (Full)
This is different to sex-based eligibility because it makes legal provision exclusively for natal females, acknowledging the importance of biological sex differences between the three groups. These exemptions are discretionary and their use must be shown to be a proportionate means to a legitimate aim. For example, in a women's refuge where females are escaping male violence is it appropriate to exclude all natal males, irrespective of their legal sex status. A male-born trans person without a GRC can be refused based on being legally male. A male-born trans person with a GRC can be refused based on membership of the protected characteristic of gender reassignment.
4.3 Sex-based exemptions (Partial)
Sex based exemptions are not mandatory and so do not have to be used in full or at all. For example, an organisation may choose to exclude only on the basis of sex and not gender reassignment. UK prisons are an example of this. A prisoner is housed in a male or female prison based on their legal sex. A male prisoner who self-identifies as a women will be able to 'live in role' as a woman in male prison. A male prisoner must have a GRC to be automatically eligible for a women's prison.
5.0 How might this balance of rights change in the future?
The Conservative government has proposed changes to the GRA2004 to make it easier and quicker for trans people to legally switch their sex. This means any man would be able to sign a form and become legally female. The Labour party also supports this and if they form a government in the future may go further and also remove the sex-based exemptions in the Equality Act 2010. These legal changes, combined with changing public opinion, will have major changes on the way these three groups are distinguished.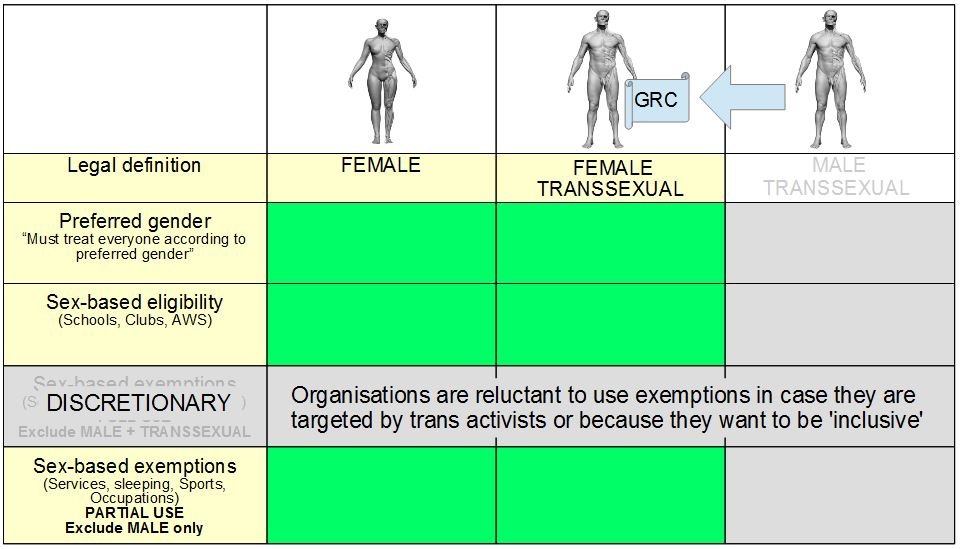 5.1 Sex written on your birth certificate will be switched 'on demand'
If the GRA2004 is reformed to demedicalise the process to obtain a GRC it will mean any male will be able to quickly and easily switch legal sex class. Self-identification of sex will, by definition, have no objective criteria by which to judge reason or motive. If someone declares themselves to be the opposite sex then they will be that sex by law. The administrative process will involve signing a statutory declaration (probably in the presence of a witness or solicitor) which confirms you wish to live as that sex for the rest of your life. It will be a criminal offence to falsely declare. However, since it will be possible to revert back to your original sex and since there will be no way to prove someone declared under false pretences there will effectively be no sanction to deter abuse of the system. It will be possible for a man to change his birth certificate with no obligation to make any bodily changes or even changes to name, appearance or pronouns.
At the moment it is estimated that only 1% of transgender people have a GRC. Only 4500 GRCs have been issued since 2004. However, if a self-identification process becomes law then it will be possible to change legal sex 'on demand'. This means that if a trans person wishes to be eligible for something only open to legal females (all- women shortlists, female-only associations, women's prisons etc) they can simply apply for the legal status of female. This means the sex-based eligibility provisions within the Equality Act effectively become meaningless.
5.2 Any male prisoner will become eligible to live in a women's prison
Self-declaration of one's legal sex would have serious and dangerous consequences within the prison system. Any male prisoner will be able to switch sex class and become eligible to live in a women's prison.
While it is true that the most dangerous males who switch sex will still be housed in a male prison for security reasons, this will not apply to most males. The highest security containment within a women's prison is known as 'restricted status'. This is lower that the maximum security Category A containment within some men's prisons. If a woman cannot be safely and securely contained within 'restricted status' facilities, prison regulations mean that she can be moved to category A containment only found in male prisons. This same system will apply to any male prisoner who switches legal sex class to female as set out in prison guidance psi17/2016: Care and management of transgender prisoners (extract below). However, it is unknown how 'dangerous' a woman (or transwoman) needs to be to be housed in a category A male prison. Freedom of information requests submitted by Fair Play For Women reveal that there are currently no female-born prisoners in male prisons in England and Wales so we have no example of this regulation being used in practice. We also know that there are only 17 females currently held at restricted status showing how rare it is for women to be deemed even close to category A. In stark contrast there a over 4000 male prisoners currently held at Category A containment. How many of these male prisoners will switch sex class to female and how many will be considered suitable for restricted status in a women's prison? It is clear that the number of dangerous prisoners born male could easily outnumber the 17 female-born prisoners.
Many people claim that such concerns are no more than scaremongering and that 'this will never happen', but examples already exist. Martin Ponting, who was sentenced to life in 1995 for the rape of two girls under the age of 16, was moved in 2017 to the all-women prison of Bronzefield in Surrey because he now identifies as a woman and goes by the name of Jessica Winfield. This prisoner has reportedly undergone gender reassignment surgery (the type is not reported so it may not be genital surgery) and presumably has also been granted a gender recognition certificate to become legally female and thus eligible for transfer. The convicted rapist was previously held at Whitemoor prison, a maximum security prison for men needing Category A and B containment. Winfield has now been segregated within the restricted status facility at Bronzefield, away from the main prison population, for allegedly making inappropriate sexual advances on other female prisoners. There is some disagreement as to whether this was the reason for the move. Nevertheless, examples such as this, and worse, are likely to happen again when access to a gender recognition certificate is open to all, with no checks and balances. It clearly demonstrates that existing safeguards are not sufficient to keep women safe.
Even if a male prisoner does not have a history of violence against women or convictions for sexual crimes it is still fundamentally wrong that any man will be able to switch prisons and live with women. Most women in prison have been victims of male domestic violence and sexual abuse and the psychological impact of living amongst male prisoners must also be considered. The prison system has a duty of care towards women prisoners and has always housed the two sexes separately. This law reform changes that principle in practice. The fact that these male-born prisoners will have a female birth certificate does not change the reality that the prison environment for women would no longer be single-sex. This must be acknowledged and openly discussed in public before changes are passed into law.
Fair Play For Women has submitted written evidence to the Justice Select Committee Inquiry on Prison Planning on this issue. This evidence was raised in a recent Welsh affairs committee meeting and a question put to Andrea Albut (head of Prison Governors Association, and governor of a women's prison) about the impact of male prisoners coming into women's prisons. She said that she 'had seen women very scared' in advance of a male-born prisoner being transferred to their prison. Regarding female prisoner officers being asked to perform intimate searches on male-bodied inmates she said she 'didn't know what policy would be'. It is surprising, and disconcerting, that prison governors appear not to be fully aware of these proposed changes and how it could be handled safely. Fair Play For Women have offered to meet with Andrea Albut to discuss the issues but so far this offer has not been accepted. This is one of the most serious implications of proposed changes to GRA reform and it is unclear how abuse of the system could be prevented.
Notably, in Ireland where self-declaration of legal sex was made law in 2015 there have been no reported problems in prisons. This is often held up as an example of how women's fears are unfounded and that GRA reform should be supported. However, in Ireland once a male prisoner is located in the male estate they cannot be transferred to a women's prison even if they apply for a GRC. As such, Ireland bears no resemblance to how GRA reform will impact prisons in the UK and it is disingenuous to hold Ireland up as an example.
5.3 Sex-based exemptions will become impossible to use in practice
Even if a male gets a GRC and switches legal sex class to female they can still be legally excluded from some female-only spaces if sex-based exemptions are invoked in full. These exemptions allow the lawful exclusion of males and also trans people to reserve a space specifically for female-born women. However, in practice it will be impossible to prove someone has switched their legal sex to female because people are not obliged to show their GRC and it is a criminal offence for officials to reveal the trans status of an individual once they have a GRC.
At the moment, most (99%) of trans-identified males do not have a GRC and so do not have a female birth certificate. As such, asking to see a female birth certificate is a way to officially distinguish between natal women and self-identified women. However, if any male can obtain a GRC and a female birth certificate on demand this method will no longer distinguish between these two groups. Despite the fact that most people can distinguish males from females by eye (irrespective of gender presentation) there will be no way to officially prove it, and the trans person will be under no obligation to reveal it. As such, the single sex exemptions will be rendered meaningless by GRA reforms.
5.4 Organisations will be under more pressure not to apply sex-based exemptions
In addition to the practical difficulties of upholding the single-sex exemptions, we are also seeing organisations choosing not to invoke them at all, or only partially. This is due to a combination of factors, including targeted campaigns by trans-activists against organisations that do invoke them, and the increasing popularity of 'trans inclusion' as a brand identity. There is also a general lack of awareness that the exemptions even exist, both amongst policy makers within organisations, and amongst their customer base. Campaign groups like #manfriday have been raising public awareness of instances where organisations have a self-identification policy. Women have 'self-identified' as men to enter male-only spaces, in order to illustrate how easy it is to do, and to show that the policy exists. As women, if we value the female-only spaces that sex-based exemptions make lawful, we must make that known to organisations. Fair Play For Women has produced a single-page factsheet on lawful sex-based exemptions that can be printed off and used to show management, staff and members of the public what the law allows.
6.0 Extending trans rights will take away rights from other groups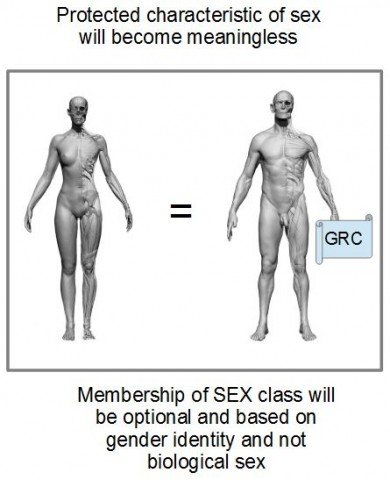 Despite claims by supporters of GRA reform, including the CEO of Stonewall, Ruth Hunt, that this is 'just admin' it is clearly much more than that. As described in this article, self-identification of legal sex will mean that membership of the female sex class will become optional and no longer based on biological sex.
6.1 Women will lose their right and ability to fight sexism
Self-identification of legal sex renders the protected characteristic of sex effectively useless as the means to protect women from sex-based discrimination and inequality. In addition, privacy laws associated with a GRC make sex-based exemptions impossible to use. The female sex class will legally include people with either female or male bodies. Some members of the female sex class will have a penis and testicles and will be able to impregnate other females and make them pregnant. The ability to gestate and give birth to babies will no longer be something exclusive to the female sex class. A penis will be a female sex organ.
In fact, all the above has already been legal since 2004 when the GRA made it possible for a male to switch legal sex class to female. However, strict requirements associated with getting a GRC has played a meaningful gate keeping role and prevented abuse. Trans people get most of their rights to live as their preferred gender from the Equality Act, so a GRC is of little day-to-day benefit. As such not many trans people have applied to switch legal sex and only 4500 GRC's have been granted since 2004. Removal of all gate-keeping will open this process up to all and fundamentally change the concept of the protected characteristic of sex and the legal meaning of female.
If we lose the language and labels we use to describe what it is to be female we will lose the ability to talk about sexism.

We will lose the ability to monitor sexism. Male violence will be recorded as female if the perpetrator identifies as a woman. Already some police forces record crimes under self-identified gender rather than an offender's sex.

We will lose the ability to combat sexism. Initiatives designed to improve opportunities for women will be open to males who identify as women. We already see this happening.

Sexism will be unseen and unheard but it will still be felt by members of the female sex.
6.2 The gay community will lose their rights and ability to fight homophobia
If membership of a sex class becomes optional this also fundamentally changes the protected characteristic of sexual orientation. Under equality law sexual orientation is defined as same sex attraction (homosexual), opposite sex attraction (heterosexual) and either sex attraction (bisexual). A lesbian is a female who is sexually attracted to another female. A heterosexual relationship is a relationship between a man and a women.
By changing legal sex class a person also changes their legal sexual orientation. A male who is sexually attracted to females is a straight man. If he changes his legal sex to female he becomes a lesbian woman. If he is married, his wife will become officially same-sex attracted and also a lesbian. Sex between someone with a penis and someone with a vagina will be considered a form of gay sex.
After years of fighting for gay rights and same-sex marriage the LGB community now face losing their right to their own protected characteristic of sexual orientation. Ironically, many of the same people who supported gay rights will now be unwittingly supporting its demise. Uncritical support for trans rights, without an informed view of the consequences, is why an open and free debate must be had. Not just for women, but for everyone in society.
7.0 What can we all do now
Rights never exist in isolation. Extending the rights of one group can sometimes impact on and change the existing rights of another group. When that happens it is important that all the issues can be openly and freely discussed and that the voices of all stakeholders are heard.
Extending transgender rights to allow a male-born person to join the protected characteristic of the female sex (and vice versa) clearly impacts more than just the transgender community. Discussing the existing legal rights of women is not anti-trans hate speech. Campaigning in support of women's rights is not about being anti-transgender rights, it is about being pro-women rights. The democratic process relies on the pros and cons of any new policy being discussed. Political discourse involves debate and disagreement until the best solution is found. Silencing one side of that debate is wrong.
We must all continue to speak, learn and challenge ideas. Talk to your friends and family about this issue. Make an appointment to see your MP and talk to them about it. Raise awareness of the importance of sex-based exemptions at work and in any organisations you interact with. Most of all just keep talking. Talk at the school gates, talk at work, talk at the pub, just talk. It's allowed. Disagreeing with a trans person is not transphobic.
RIGHTS NEVER EXIST IN ISOLATION: