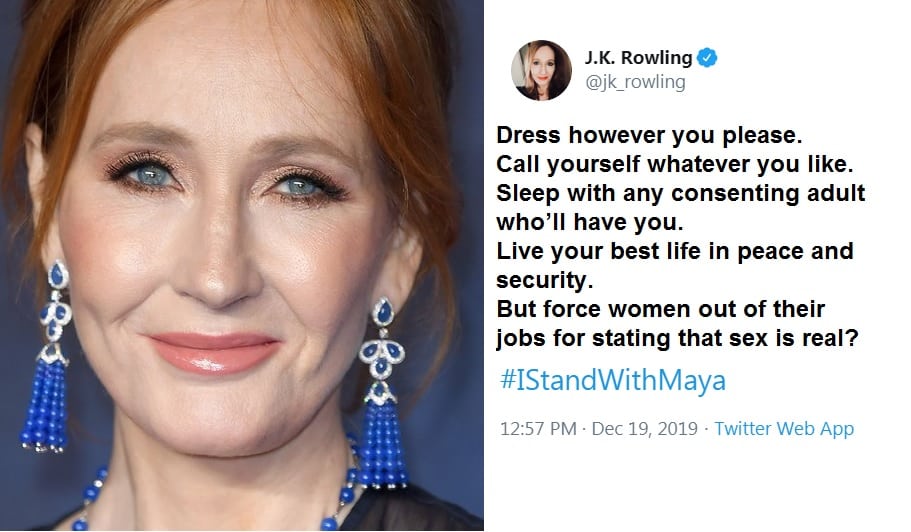 This story begins last Summer when the Government launched a public consultation to gather opinions on whether there should be a change in a piece of law called the Gender Recognition Act.
Some people wanted this law to be relaxed to allow anyone to change the sex written on their birth certificate, with no checks or balances.
This would mean that any man would be able to declare he was born female, with no doctors diagnosis, no drugs, no surgery. Just a form to sign.
Women said no. This would be bad law.
Women's rights depend on sometimes being able to treat males and females differently because of their sex. To do this we must be able to accurately identify and acknowledge the material reality of someone's sex.
Maya Forstater participated in the public debate about sex and gender identity, just like we were all encouraged to do during the Government's public consultation period. She tweeted about her views in her spare time.
Maya believes that while it is right that trans people must always be free to express their gender identity and never be badly treated simply for being trans, that the material reality of their sex cannot and does not literally change. Because that's impossible.
Although Maya always tries to use preferred pronouns as a matter of courtesy and politeness, she doesn't think the law should compel her to believe or act as if a trans person has literally changed sex. Sometimes it's important to acknowledge that a transwomen's sex is male, particularly when formulating policy or discussing law change for example.
Most people believe this. JK Rowling believes this too.
However, Maya's bosses disagreed and sacked her saying her views were offensive to trans people.
So she took them to an employment tribunal.
The UK tribunal judge also disagreed and ruled against her.
He quoted the existing Gender Recognition Act that says that a person with a Gender Recognition Certificate has changed sex for all purposes.
The judge interpreted that 'for all purposes' must include the material reality of their biological sex. So yes, a transwomen has literally become female in all ways possible and so we are not entitled to act otherwise.
The judge went further to include trans people who haven't legally transitioned at all, covering the vast majority of transwomen who still have a male birth certificate.
Judge Taylor said "I consider requiring [people] to refer to a transwoman as a woman is justified to avoid harassment". Paragraph 91.
Although he agreed that Maya's view was serious and logical it "violates the dignity [of trans people]" and for this reason it is "not worthy of respect in a democratic society". Paragraph 90.
This means that the law offers no protection from not being sacked for holding these views.
If Maya is not protected, no one is protected.
This why JK Rowling has stepped forward to show her support.
And why its been liked by over 150K supporters and counting.
And this is why she is being abused on Twitter.
Dress however you please.
Call yourself whatever you like.
Sleep with any consenting adult who'll have you.
Live your best life in peace and security.
But force women out of their jobs for stating that sex is real? #IStandWithMaya #ThisIsNotADrill

— J.K. Rowling (@jk_rowling) December 19, 2019
Some people say that reforming the GRA will not impact women. They are wrong.
"It's just admin" they say.
This court ruling shows that is nonsense.
It already prevents women from talking about our sex-based rights.
If we can't name sex or monitor sex-based discrimination we can't protect or implement our sex-based rights.
Even worse, some people even claim that sex-based rights are 'transphobic' and no doubt some will say even this article comprises "hate speech"
That is of course nonsense. That is nothing more than an attempt to shame women into silence.
So, if you hear someone being dismissed as "transphobic" or an organisation being called an "anti-trans hate group" listen to what is really being said. Behind the noisy protests you will find sensible women with legitimate concerns.
We need this discussion to find solutions for all. Stonewall's mantra of "No debate" has been a roadblock to finding these solutions for too long. Enough.
If we are forced to say 'transwomen are women,' women's rights disappear overnight, and we are left with people's rights. People's rights favour men because men are the default people. That's why we fought for women's rights in the first place.#IStandWithJKRowling #TERF

— Helen Saxby (@helensaxby11) December 20, 2019