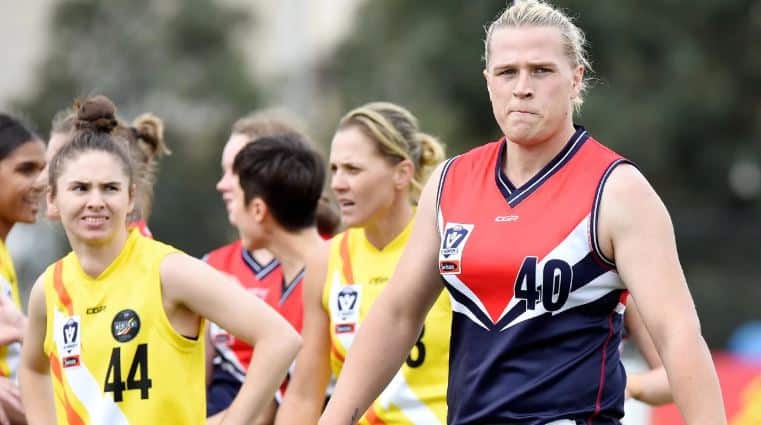 To date there have been three official polling surveys in the UK each asking whether transgender women should or should not be allowed in women's sporting events (Populus 2018, You Gov 2018, You Gov 2020). In 2018 just over a quarter of respondents answered 'yes'. By 2020 this dropped to just one in five respondents with a concomitant increase in the number of 'no's.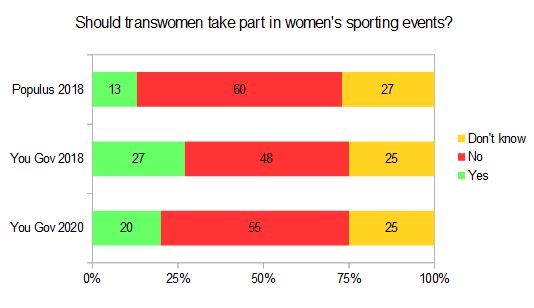 Media coverage of transwomen in sport has increased substantially in the past two years. Increased public awareness and access to information has coincided with falling public support for the trans-inclusive rules first adopted by the IOC in 2015 and then followed by all major sports governing bodies.
While support for someone's gender identity is relatively high in the UK – up to 43% agree with the phrase "transwomen are women" – the public can and do distinguish between gender identity and biological sex, particularly in contexts such as sport where the latter is acknowledged as relevant. In such cases it is largely accepted that policies need to be based on an individual's biological sex rather than on their preferred gender identity.
Notably, around a 25% of respondents consistently answered 'don't know' or 'prefer not to say' to survey questions about transgender women, including about their inclusion in female sport. This is unusually high (the norm for 'sensitive' questions is around 5% of respondents). Given that pro-trans campaigns have promoted the idea that only trans people can or should comment on trans lives, it's possible that people felt unqualified to comment, or unwilling to risk appearing 'transphobic'. Whatever the reason, many people are likely to feel that it's inappropriate for them to have a view on these questions. This factor should be taken into account when assessing the popularity or otherwise for any policy on transgender inclusion.
In additional to anonymous polling surveys there are other signs of widespread public support to reserve women's sport for the female sex. This includes a public petition hosted by the US campaign group called Save Women's Sport currently at over 15,000 signatures. Article 7 of the Declaration of Women's Sex-based Rights also calls for single-sex sporting opportunities for women. This document has been endorsed by over 200 organisations and has received over 11,000 signatories of support.
In June 2019 over 700 people attended a women's sport event in London to discuss the impact of trans inclusion on women and girls.
In response to increased public concern and developing scientific evidence, the UK Sports Councils have now commissioned a detailed review of their own 2015 guidelines for transgender eligibility domestic competitive sport. Similarly, when asked about their current policy on transgender inclusion by Fair Play For Women, a majority of sports national governing bodies in the UK say their rules are 'under review'.
Rugby Union may be the first sport to move away from the IOC's principle of trans inclusion in light of new evidence, but it is unlikely to be the last.
In advance of their transgender meeting in February, World Rugby conducted a confidential survey of elite female Rugby player views. They asked 65 players from the UK if they thought transwomen should be eligible for the female game. Less than 10% agreed with inclusion with the vast majority saying no (63%) or don't know (27%). This shows elite female players share similar views to the general public. Most wish to retain women's sport for the female sex.
In contrast, few female athletes feel able to speak freely and safely about transgender inclusion in women's sport. This is in stark contrast with the ease with which supporters of transgender inclusion can signal their views. For example, an open petition against World Rugby's new transgender eligibility guidelines containing a number of factual errors has been widely circulated across popular on-line rugby forums, gathering over 15,000 signatories and BBC news coverage.
Whereas, when Fair Play For Women asked to join the popular Facebook page Women's Rugby Network in order to post information about the topic, our request was rejected. This was surprising considering the fact we had actually participated in the World Rugby transgender meeting itself.  When we asked women in the group if they felt comfortable posting about the issue they told us "I use that group for networking and recruiting for my team and I don't want to risk getting kicked out of the group" and "I just can't face the backlash and accusations of transphobia that I know would follow". This asymmetry of opportunity severely distorts public understanding of the issues.
---
To date, no female Rugby player, amateur or elite, has chosen to speak publicly to the media on the topic. This reluctance is understandable given the abuse received by other sportswomen, most notably Martina Navratilova, Sharron Davies and Kelly Holmes. Reputational damage inflicted on those who speak out is significant, leading to individuals being reported to sponsors, removed from organisations, and the related loss of paid-work opportunities.
In private, concern amongst sports professionals is high. In September 2019 a private letter of concern was sent to the IOC signed by over sixty British Olympic medalists, world-class sportsmen and women, and leading scientists. The letter asked the IOC to suspend its transgender guidelines pending further scientific study and analysis.
In July 2020, more than 300 current and former professional, Olympic and collegiate female athletes sent a private letter to the National College Athletic Association (NCAA), urging it 'not to give into bullying tactics' and to reject the call to boycott Idaho for passing the Fairness in Women's Sports Act. The law protects fair competition and athletic opportunities for women by ensuring that only female athletes compete in women's sports. Within days the names of all 309 sports women were published following a leak to an LGBT sports website. This worrying development shows that even official correspondence to sports regulatory bodies can put individuals at risk.
Advocates for female athletes also suffer abuse and condemnation for speaking up. Australian Senator Claire Chandler is being investigated for an alleged breach of the Anti-Discrimination Act for her views expressed in parliament and in print that 'Women's sport was designed for the female sex and should remain so". UK campaign group Fair Play For Women is routinely called transphobic for speaking on this issue, despite these accusations being ruled as inaccurate when investigated by the press regulator IPSO. Most concerning of all, even scientists who have been asked by World Rugby to provide their expertise on this topic are condemned in public and reported to their employers.
The risks associated with sharing views on this topic means that World Rugby and member Unions are unlikely to hear support from amateur players about the new transgender guidelines unless there are pro-active and trusted contact mechanisms in place. However, players tell us that no effective club outreach programme has been undertaken by England Rugby to gather the views of female players and officials on this issue. No player feedback was collected to inform their transgender eligibility guidelines (published May 2019) and the same appears to be true while formulating their position on the World Rugby draft proposals.
---
The truth is everyone knows that it's wrong to let male people play women's sport. We all know it's unfair and unsafe and excludes women.
It's common sense but no one is allowed to say it.