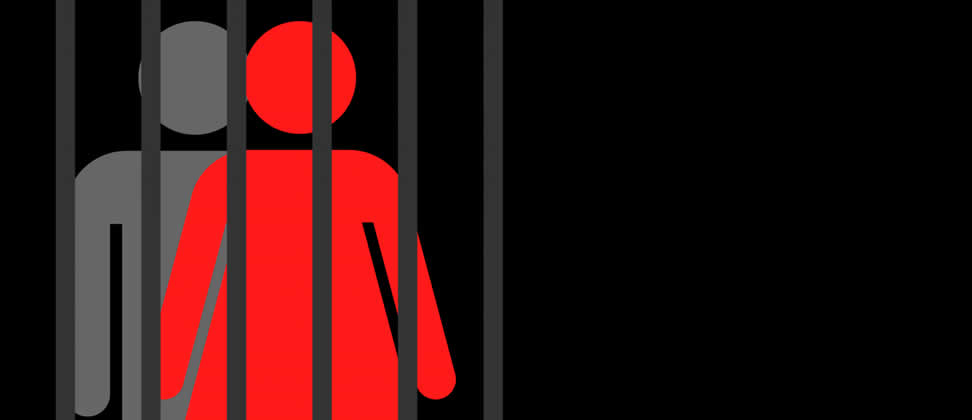 The public has been shocked to learn that since 2016 male prisoners in the UK have been allowed to ask to be transferred to a women's prison. All they need to do is self-identify as a woman. Legal or medical transition is not required for permission to transfer meaning that legally-male prisoners complete with a penis are currently living alongside women in prison.
At Fair Play For Women we say that this transgender prison policy needs to change. The impact on women in prison has been ignored.
What do we know about transgender prisoners and their crimes?
Very little! So in 2017 we published our own new research showing that half of all known transgender prisoners require max security or specialist sex offender prisons.  Despite numerous attempts by others to discredit our work the MOJ has now confirmed the accuracy of our findings. Official figures released by the MOJ in 2018 show that half of all known transgender prisoners counted in April 2017 had at least one previous conviction for sex offences.
This is important to know because the vast majority of sex offending is committed by males. There are over 80,000 male prisoners in England and Wales. Close to 1 in every 5 male prisoners have been convicted of a sexual offence. That's about 14,000 male sex offenders; almost 20% of the male prison population). In contrast very few female prisoners have been convicted of sex offending. Fewer than 150 women in prison today have been convicted of sex offending. That's just 3% of the female prisoner population of around 4000 women.
When it comes to sex crimes we see this very high male-type conviction pattern in the transgender prison population too. This means that despite identifying as women the male-born transgender prisoners retain their propensity for male-type crimes. This has serious implications for women when prison policy means some will be forced to share their space with male-born transgender inmates.
Our ground breaking work sparked extensive media interest in the topic for the first time. Dr Nicola Williams discussed the new findings on Good Morning Britain with Piers Morgan and our work was covered by the Sunday Times and a big two-page feature article in the Mail on Sunday. We submitted our findings to the Justice Select Committee as part of their inquiry into future prison planning. We highlighted the risk that women's prisons could be overwhelmed by high-risk male sex offenders should GRA reform go ahead. We also raised concerns that this issue does not just put women at risk while they are in prison, but also in women-only probation hostels after they get released.
Transgender prison policy puts women at risk
It's not just us saying that transgender prison policy is dangerous. Prison experts can see the problem too.
Andrea Albutt, president of the Prison Governors Association said in June 2018: "I have seen women feeling very threatened by transgender prisoners' presence. Women prisoners are very vulnerable."

Frances Crook of the Howard League, a prison reform campaign, has said that she is worried that 'some men with a history of extreme violence and sexual violence against women have found a new way of exercising aggression towards women'.

The British Psychological Society has said this: "psychologists working with forensic patients are aware of a number of cases where men convicted of sex crimes have falsely claimed to be transgender females for a number of reasons"

Dr James Barrett of the British Association of Gender Identity Specialists has said this: "It has been rather naïvely suggested that nobody would seek to pretend transsexual status in prison if this were not actually the case. There are, to those of us who actually interview the prisoners, in fact very many reasons why people might pretend this"

Richard Garside of the Centre for Crime and Justice Studies has written this article saying "My concern about the current approach is that it is appears to privilege the subjective feelings of particular, largely male, prisoners, at the expense of the needs of those prisoners, largely women, who have to live with the decisions imposed upon them."
Women in prison have already sexually assaulted because of bad transgender prison policy
At the end of 2017 a male-born transgender prisoner called Karen White was placed on remand in a female prison and went on to sexually assault two women inmates within days of arrival. Karen was convicted almost a year later, along with two more historic rapes. When this news became public the Justice Minister dismissed it as a 'procedural error' and not a policy failure. We fundamentally disagreed and re-doubled our efforts to shine a light on the policy.
Karen White sexually assaulted two women inmates: "The complainant felt something hard press against the small of her back. She could see the defendant's penis erect and sticking out of the top of her pants, covered by her tights."
We spoke up once again about the risks to women in prison. We were interviewed on the BBC Victoria Derbyshire Show, on both of BBC Radio 4's flagship news programs the PM program and the Today program, as well as appearing on LBC and Talk radio.
We also launched a government petition calling for a full review of transgender prison policy – but this time in full consultation with women's groups. Our work successfully triggered a ministerial response confirming that a new policy framework would now be developed and that the risk to women would be given full consideration.
During the next few months we had many meetings with MOJ and HMPPS officials repeatedly highlighting the risk to women, not only the physical risk of sexual or violent assault but also the daily psychological impact of sharing prison time with males. We reached out directly to women in prison with an article in the prison magazine Inside Time (page 23) We wanted them to know we were speaking up for them and for them to write to us with their experiences and concerns. Many did.
Some transgender prisoners were moved back into male prisons and a transgender accommodation unit was set up at Downview women's prison to house the most dangerous transgender prisoners with gender recognition certificates. In June 2019 the new transgender prison policy was published.
Despite some improvements to ensure the physical safety of women in prison the new policy was still seriously flawed. Male-born transgender prisoners, including those with a history of sexual or violent offending against women, would still be allowed to mix with female inmates.
One brave woman in prison decided to make a stand and is now suing the government saying the new transgender policy puts her and other women in danger. Fair Play For Women is supporting her legal claim and has provided written evidence to the court regarding our engagement with MOJ and HMPPS officials. We also attended the court hearing on the 28th October 2020 which was adjourned on the day due to a late submission of evidence by the defence. The case was eventually heard on 2-3 March 2021.
The claimant's legal team argued that the new transgender policies do not adequately consider the detrimental impact on female prisoners and should be quashed. This is a crucial step on the journey to ensure the safety and well-being of women in prison is protected. They argued that the MOJ should revisit its transgender guidance, this time with a comprehensive analysis of all the risks and harms to women and to do this in full and effective consultation with experts, advocates for female prisoners and female prisoners themselves.
The judgement was given on 2 July 2021. The judges ruled that the policy was capable of being operated lawfully. So the MoJ was not forced to review or rewrite its policy. However, there were significant statements in the judgement, and actions which the MoJ must now take, which we've spelled out in this analysis of the judgement.
Our work will continue to campaign & lobby for the best outcome for women in prison. This is our big chance to make this right. Women in prison are some of the most vulnerable women in society and the least able to speak up for their rights. They deserve kindness and care too.
Read more:
Fact check: Are more women really sexually abusing children?
UK police record male rapists as female under self-ID policy
Prisons timeline: How did we get here?
---
You can help to defend female rights by making a donation. Fair Play For Women receives no formal or government funding to support the vital work we do. We rely completely on donations made by our supporters.
DONATE NOW