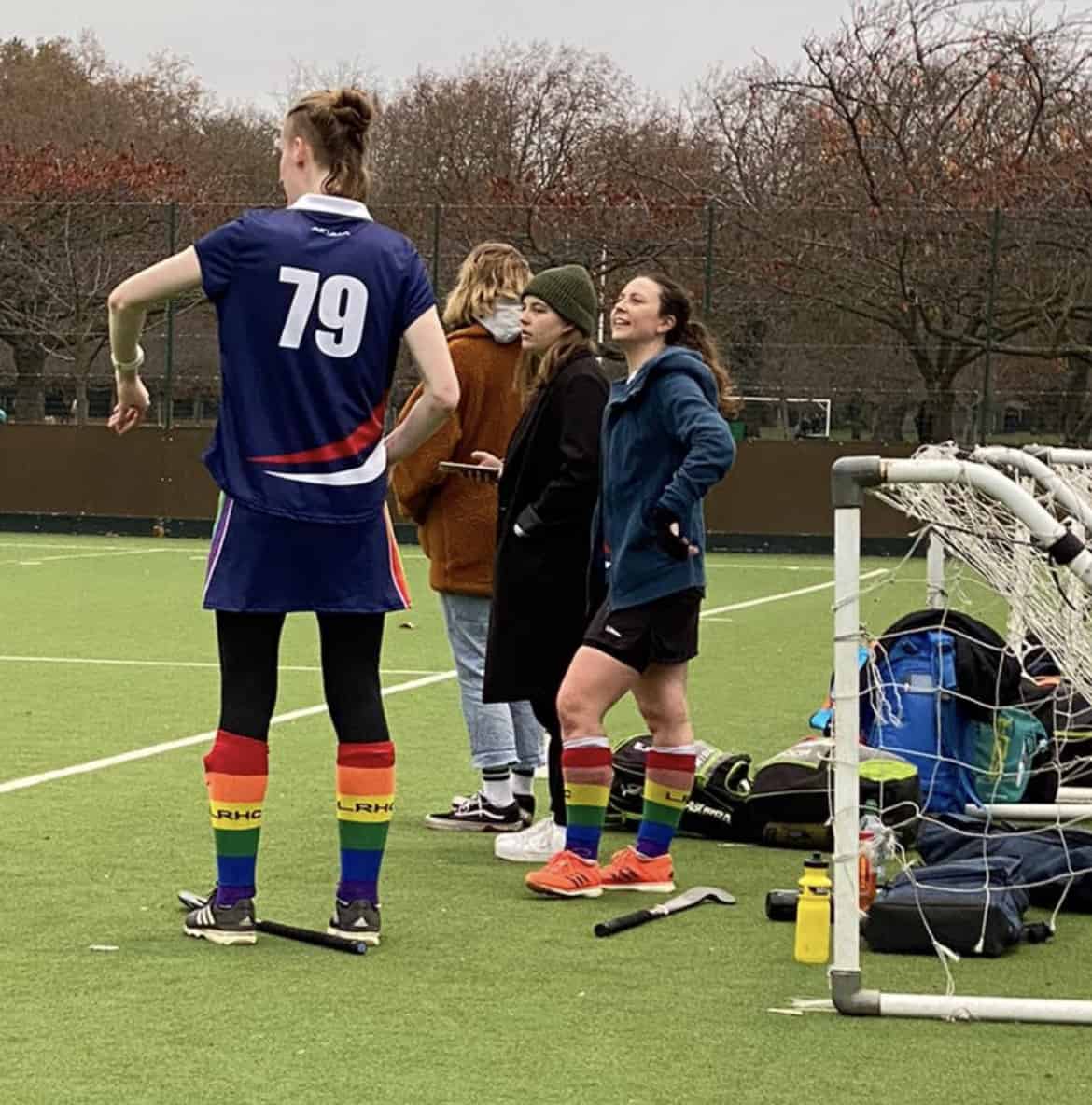 It's now beyond doubt that transgender inclusion in female sport makes it unfair, and sometimes unsafe, for females. Following the publication of new Sports Council Equality Group guidance on the matter, many UK sports governing bodies are now reviewing those policies. But others are still defending old policies that allow some males in female sport categories. When we talk to national governing bodies (NGBs) in the UK, few claim that trans inclusion in female categories is fair. Instead they cite other reasons that may at first seem sound. Here we show how those reasons don't stand up to scrutiny.
"Sport has to be trans inclusive."
We agree. Sport as a whole should have a place for everyone, regardless of age, ability, and all other characteristics, including gender identity. That doesn't mean getting to choose which category you want to be in. Classes and categories exist in order to ensure that everyone can play fairly and safely. World Rugby (2020) has referred to "…the almost perfect sensitivity of biological sex…. since in a ranking list of the top thousand performances in most sport, every year, every single one will be biologically male". Without a women's category, women couldn't compete.
The issue here is not whether but how to be trans inclusive. It cannot be allowing males into female sport categories. If a sport has sex categories, it's because they are necessary to enable fair female competition. Why then would an exception be made for some males?
"It's a human right issue."
This is another way of saying the science doesn't support this but we're doing it anyway. There's no actual human right to sport but of course it's good to ensure there's a place for everyone to do sport. That's why there are categories by age, sex, ability and sometimes weight. Those who do not meet the strict eligibility criteria are excluded. There is certainly no right to choose your category. 
Those who argue "human rights" forget to apply the same right to females as they demand for trans-identifying males. 
"There are only a few transwomen so it isn't a big deal to let them into the female category."
This seems like a reasonable position, but it's really a terrible argument. It's acknowledging that women are adversely affected but suggesting that it's affecting a few, and somehow the price paid by women is worth it. 
First, "only a few" cuts both ways. Why up-end the system and damage the integrity of female sport for a few transwomen? Why should those "few" matter more than an equal number of females?
Second, the ratio of trans inclusion vs female exclusion is not one to one. A single male in a women's event or team affects many women. It's not just the women who lose their place directly to a trans player. In some sports women are self-excluding where there is a trans opponent because of the increased safety risk. In others, it's just the unfairness or futility of competing against them. For some, especially teenage girls, just knowing there is a transwoman at their club can be enough to put them off going for fear of an embarrassing encounter in the changing room or toilet. Some women cannot risk this for cultural or religious reasons. All for one trans-identifying male. 
Third, no one really knows the scale of the impact. Few sports bodies are tracking trans participation. Most have no mechanism to know whether a player registered female might be a trans-identifying male. Most have policies that tell match officials to accept people at face value, and not to question their legitimacy or right to be there. Female players mostly dare not object. So who knows how many trans players are participating in grass roots teams and community clubs?
And finally, whatever today's impact, it will grow. Being trans is no longer the rare escape from extreme mental distress that was discussed in Westminster in 2003 when the GRA was written. Stonewall says there are perhaps 500,000 trans-identifying people in the UK. Only 6000 of these have legally changed their sex with a Gender Recognition Certificate. 
If just one in 100 males who play football decide they are trans, they will represent 1 in 10 players among the women, because there are so many more male players. This is true across many sports, as this published analysis shows. So just a few males can have a devastating effect on women who play sport. 
It's much easier to address this now before it affects many transpeople and many more women. If you wait until there are lots of transwomen competing in women's events (remember they don't need to change sex legally) then it will be much more unfair but also harder to change. Males in female sport will become a common sight.
"Transwomen are women so legally we have to allow them."
This is incorrect. Section 195 of the Equality Act refers to sex not gender identity. It is lawful to exclude males from female sports categories. The recent Sports Council Equality Group (SCEG) guidance confirmed that it is lawful to ask for birth sex to do so. There is no reason to categorise sport by gender identity. If a sport is not sex-affected then it should be mixed. 
"If it's ok for transmen to be in the male game, how can we treat transwomen differently? Isn't that discriminatory?"
It is permitted discrimination on the basis of sex. As the Equality and Human Rights Commission says, this is not a symmetrical issue. They say, "The law has always recognised that discrimination and inequality are not symmetrical, and that there are certain circumstances where treatment that may otherwise be discriminatory should be allowed. The provisions that allow for single-sex services are among those." The lasting male performance advantage means females are no threat to males in sport, whereas allowing males into female sport threatens fairness and in some cases safety for females.
"It's not for us to deny someone's identity."
Identity is one thing, birth sex is another. Sport is segregated by sex not by identity. If we didn't need sex categories we certainly don't need gender identity categories. Having a dedicated category based on sex is not a denial of someone's gender identity. It's a recognition of their birth sex. Only a person born male can identify as a transwoman.
Rules apply, objectively. They cannot take account of feelings. A boxer, judoku or lightweight rower may have hit their weight class yesterday and may do so again tomorrow – but they don't compete today if they're a gram overweight. 
"Trans people have gone through a lot to make a transition, so if they are sincere we should accommodate them."
Sport is about applying the rules equally and consistently to everyone. Bodies vary a great deal but rules must be clear and simple to apply. Sincerity or motivation doesn't come into it. Someone who accidentally breaks anti-doping rules with a cold remedy or a lip salve is still guilty of doping. A late developer can't elect to stay in the juniors for longer, and a small man or one whose health is impaired doesn't get to compete with women just because he lacks the stature or vigour to be successful against men. Male puberty confers a lasting male performance advantage which cannot be undone. We can be full of compassion for trans people but it is unethical to compromise other people, i.e. females, because of that.
World Rugby recognised this when they ruled that a trans-identifying female may risk her own injury playing in a men's team, because she gets the benefit, but it is unethical to let males into women's events where the trans-identifying males get the benefit while the risk is borne by everyone else. Each of us has to deal with the consequences of our own life decisions. Sportswomen have to decide whether to delay having children, or to miss a season to start a family and risk a drop in competitiveness. That's life.
There are ways to ensure inclusion in sport of trans people while retaining fairness for females. Open sport is one solution suggested by the Sports Councils Equality Group. Many team sports have mixed teams and events. Other ways of doing sport can be found without compromising female sport, which is still fighting for equity. Women can't afford to carry the burden of including another group because we are not fully included ourselves yet.
"It's like gay rights. People are not accepting at first but they will get used to it."
Sexual orientation is not relevant in sport. Being gay should not be a barrier to inclusion. Equally, gender identity is not relevant in sport either. Only sex is, along with other objective factors like age. That's why sport is organised into male and female, and by age – not by sexual orientation and not by gender identity.
Women are being told we will get used to it. We'll get over it, as men did with gay teammates. Well, not really. Homophobic bullying is still a problem in sport, and some gay men are afraid to declare their sexual orientation. But female sport has never had a problem with lesbians, who are over-represented in some team sports. The issue is not one of acceptance, it's the simple reality of male bodies, with all the advantages of male puberty. Humans easily classify people by sex on sight. This is not changed by a person's identity, use of hormones, possible surgery or any other body modification.
"Women in our sport welcome transwomen into their teams."
This is not how rules are made in sport. The governing body sometimes has to make rule changes that the players don't want: compulsory helmets for safety, in many sports; VAR (Video Assistant Referee) in football; even the "no punching" rule in Rugby League, disliked by players but adopted all the same. It is the governing body that reviews safety data and decides what level of risk is acceptable. Individual players may be happy to accept greater risk but it's not their call. Governing bodies adopt anti-doping directives which apply to all, even players who want to dope, or don't care if others do.
In any case, many women do not feel free to say what they really think. This is well-documented in the SCEG report (see pages 11 and 15). It's very difficult to speak up. Players risk vilification, being called bigots or transphobes, being ostracised. Even without that, there is social pressure on women to compromise for the sake of others. Expressing an objection is even more difficult if there is already a trans player in their team or area. It makes it personal. 
Even where there is genuine agreement among a team or in a club, it is not fair to create a general rule for all women on that basis. Sports rules are not made to accommodate individuals but to ensure transparency and fairness for all.
"The difference between males and females isn't that big, and it's sexist to say it is."
This is just wishful thinking. Sex categories in sport have been accepted as necessary for so long now that people have forgotten how big the differences are. It is not sexist to admit the physical differences between the sexes translate into massive advantages of speed and strength. 
We rarely see males and females competing directly: so have a look at this video of a man cruising past a woman in the mixed 4 x 400m relay at the 2019 athletics world championships. All the runners are elite, the best men and the best women in the world.  The male performance advantage gained at puberty means teenage boys can beat the world's fastest women over almost any distance, as illustrated here.
The SCEG international research literature review covers this well. It explains the biological differences and their impact, and says on p 3: 
"In adults the average advantage of 10-12% in running events can be interpreted for both the 'average' competitor, as well as for elite performers where the percentage difference remains the same for similarly trained people. 
"In this way a 10-12% better performance by a competitor would see Adam Peaty being beaten by half a length in the short-course 100m breaststroke and Dina Asher Smith by 22m in the 200m track sprint. And Sir Mo Farah would be lapped twice in the 10,000m track race." 
"It matters at elite level but we can be more "inclusive" lower down in sport."
This says, we know it's unfair but we daren't apply the right decision across the board so we will do it where it is most visible or where there is most at stake. But elite players are not born elite. They come through talent pathways from junior and grassroots sport. If teenage girls are deterred, it will feed through to elite levels in time. This approach is less inclusive overall. Bear in mind that 99% of sport is not elite.
In any case, this logic is unprecedented. Some sports have more stringent rules at lower levels to protect juniors, not more laissez-faire ones. Sporting events which are not competitive can of course take a more casual approach. But fairness is integral to sport. Competitors at every level expect it, and they are just as deserving of it.
It's true that sports can be more inclusive such as running mixed training sessions, adopting different forms such as handicapping to level out differences, or running festivals of sport which aren't really competitive. The distinction is competitive vs recreational, not elite vs grassroots. Recreational sporting activity can indeed be more relaxed about rules and fairness, precisely because it is not competitive. That is not the same as applying a rule known to be unfair at elite level to competition at lower levels.
"People can find their own level: less competitive males with talented females."
Box leagues at community tennis clubs are often mixed, so the best women play the less able men. They're in the middle boxes. The top boxes are men only, and the bottom ones women only. Club singles tournaments are single-sex, because otherwise all club champions would be male. In cycling, elite women sometimes race with lower-ranked men, because they have similar speed. Should those men be allowed to win the women's race? The male performance advantage is so large that teenage footballers can beat the world's top female teams, as reported in the SCEG review. This is an argument for mixed sport at all levels. That would end female opportunities in sport.
"We can assess trans people on a case-by-case basis."
This is a version of the previous argument, but impossible to implement. Case-by-case inclusion in practice means case-by-case exclusion – and who's going to do that? It is discriminatory at an individual level, lacks objective criteria by which to assess who belongs where, and it becomes personal. Which club official can decree which transwoman will be excluded? Anyone can underperform to show their readiness, and who can challenge them? Even an independent medical or other panel will find they cannot justify exclusion at a personal level. Case by case rapidly becomes an all-in policy.
"Won't it be difficult if we have different rules from our international federation?"
Most participants in UK sport are not competing internationally. UK sports have clear guidance and a strong evidence base now from the Sports Councils. They are free to follow it. International federations and the IOC have their own agendas, as we explained here. National bodies are free to diverge from international rules. This is already the case in rugby – but in the opposite direction. In 2020 World Rugby reinstated safety and fairness for females in rugby, after a thorough consultative process. None of the UK home nations has yet followed. This means that a male can play women's county rugby in the British Isles but cannot be selected for a national women's team.
Reinstating female eligibility in other sports would mean only those born female would be eligible for national women's teams. If international federations do not follow, elite UK sportswomen may find males in their opposition when they compete internationally, as weightlifter Emily Campbell did at Tokyo. In time, we could see NGBs in the UK responding by selecting males for our own national women's teams. Or they can decide now to protect the talent pathway from junior to elite for females.
"Our Chief Medical Officer/ our lawyer has approved the policy."
Boards of sports governing bodies may feel that medical and legal approval provides the necessary authority and expertise which they lack. Many a policy has been nodded through by a board with this endorsement. But a policy being permissible, legally, does not make it fair. Single-sex sport is permissible too, if the sport is "gender-affected". 
Medical officers have tended to follow the lead of the IOC's chief medical officer, Dr Richard Budgett, who endorsed testosterone suppression in 2015. Will they now follow his lead in dropping it, saying that there should be "no presumed advantage" for transwomen over those born female? This is in effect saying no presumed advantage for males over females, clearly nonsense. (This is despite Dr Budgett having previously written unequivocally that "The effect of allowing male transsexuals to compete as women would be to make competition unfair and potentially dangerous in some sports and would undermine women's sports.") The IOC route is no longer credible, even if a doctor says it. A CMO in a sports body may follow the "human rights"/ "inclusion" political line, or the fair option supported by scientific evidence and common sense, endorsed by the Sports Councils Equality Group. Board members should make up their own minds.